All work listed here is now completely optional- you can do it or not, depending on how prepared you want to be for the GCSE.
Reith Lectures 2021: Living with Artificial Intelligence. Listen here.
Thoisoi2 – great youtube channel with lots of things exploding
James Webb telescope- lots of videos and info around, try this one (9 minutes)
BIOLOGY
Cognito playlist for Biology: https://www.youtube.com/playlist?list=PLidqqIGKox7X5UFT-expKIuR-i-BN3Q1g
You could probably pass your GCSE Biology just using these and Bitesize.
Remember: it is essential that you are completing a minimum of 2 hours focussed work on science each week to keep up, more if you plan in taking individual GCSEs. Getting used to self-discipline in learning now will save you a LOT of stress later. Yes, you might rather be doing something else, that's normal. Find a routine that works for you- don't leave it till the evening, get it done early in the day, you will feel better. A lot of your time needs to be speat learning the huge amount of new vocabulary, so flash cards are useful here, or whatever you find works best for you.
BIOLOGY GLOSSARY
EUKARYOTE:
PROKARYOTE
VIRUS:
FUNGI:
BACTERIA:
ARCHAEA:
DIFFUSION:
OSMOSIS:
ACTIVE TRANSPORT:
HOMEOSTASIS:
ENZYME:
CATALYST:
Cells
CELL:
ORGANELLE:
CYTOPLASM:
MITOCHONDRIA:
RIBOSOME:
PROYAPLASM:
TISSUE:
VACUOLE:
CHLOROPLAST:
MEIOSIS:
MITOSIS:
DNA, evolution & reproduction
CHROMOSOMES:
GENES:
DNA:
ALLELE:
GEONTYPE:
PHENOTYPE:
COMPLEMENTARY BASE PAIRING:
NUCLEOTIDE:
HOMOZYGOTE:
HETEROZYGOTE:
DOMINANT:
RECESSIVE:
Week starting 19 June
Some vids about homeostasis, negative feedback and hormones:
This is the one we went through: https://www.youtube.com/watch?v=14SQT97EE4c
TedX- goes a bit deeper: https://www.youtube.com/watch?v=inVZoI1AkC8
Cognito homeostasis: https://www.youtube.com/watch?v=XMsJ-3qRVJM
Mindcraft adrenaline: https://www.youtube.com/watch?v=GilWRuk81tk
https://www.youtube.com/watch?v=D5XPuS-Y0fg (actually that's the one about Pluto)
Week starting 13 June
We will continue to mini-test the glossary above in lessons so make sure you know them all (except maybe Archaea).
Choose what to try from the suggestions below:
How could Google prove that LaMDA is not sentient? How could anyone prove that it is?
Plastic munching superworms! https://www.euronews.com/green/2022/06/13/are-plastic-munching-superworms-a-scalable-solution-to-tackling-global-waste
Can you think of another potential species or evolutionalry change to an existing species that would have a different environmental benefit?
Half Term
Here is the worksheet about using the correct style of writing in science. Answers are at the bottom but you can also use this as a revision resource:
Using the sheet above, write a full description of a simple science experiment (this should take around a full sheet of A4). You can make up an experiment or use one from the practice exam paper from 16 May below.
Revise physics and chemistry and try out the practice exam papers below. We will be going through these after the holidays. There will be questions that you need to look up first; try searching the subject on Cognito or Bitesize and and learning/revising it, then try the question, rather than just looking for the answers.
Week starting 16 May
So you are completely sure you have learned all of the glossary above?
Completely??
Have a go at the full exam paper that we have started. Don't skip the first few that we already looked at, it's good practice to go over the questions again. I won't be collecting your marks or anything like that so this is purely for your benefit. Try the paper first without looking at any other resources (including your science books). There will be some questions that you have no idea about, that's to be expected as we haven't covered everything yet. Do make a note of what you find most difficult so that we can make sure we cover those areas in the next few weeks.
After trying it from memory, you can read up on areas that you didn't know and then try those questions again.
Week starting 9 May
Have you researched definitions for all of the glossary above and written them all down?
Have you found a way to memorise all of the glossary and learned the definitions?
Have you really? So you know them all, yes? Are you sure?
Plan out an experiment (or two) and write it down (you can make up results but try to make them realistic) using a system that would be understandable by other scientists, who would be able to repeat the experiment from your notes. The experiement could be (choose one):
to discover the effects of different amounts of light upon plant growth
to discover the effectiveness of 4 different antibiotics on gonorrhoea bacteria
to discover the rate of diffusion of a gas accross a large indoor space
or make up your own, but keep it simple
Use diarams as well as descriptons to show your method, use graphs to present your (made up) results.
Make sure you include a CONTROL. What does this mean?
You might find this useful: https://www.bbc.co.uk/bitesize/topics/zsg6m39
What are you trying to achive with this experiement? What does it show? What must happen next?
Are you really sure you know that glossary?
Really?
Week starting 2 May
Make sure you are familiar with all of the parts and functions of a light microscope.
We will soon be starting human organs and systems. Draw and label a diagram of the eye, ear and one other organ.
Recap the work on organ systems from last year (or look it up on bitesize).
Make a list (even f you have done it before) of all organ systems and a 1 sentence summary of their function.
Week starting 25 April
We will have a longer lesson next week on Wednesday and will be using the microscopes. Understanding microscopy is an essential part of GCSE biology and you will be tested on it. We also need to be familiar with different units of measurement.
Bitesize on microscopy: https://www.bbc.co.uk/bitesize/guides/zsgfv4j/revision/2
Collect a few samples that we can magnify next week. Natural materials (dead insects, leaves etc) work well but also small bits of crystal or fabric can be interesting.
The microscopes that we use are not powerful enough to see cells, but we need to understand ho wall microscopes work, including electron microscopes
Explain the difference between light and electron microscopes
cognito has a few videos on this, starting here: https://www.youtube.com/watch?v=PB97svr7Ye8
Free science lessons: https://www.youtube.com/watch?v=VBdVARYWq1c
Why are light microscopes fitted with blue filters?
What are the limitations of light microscopes? What are their advantages?
We need to know units of measurement and how to convert between them: https://www.youtube.com/watch?v=rJJrR8h-DtA
Define these keywords: artefact, depth of field, diffraction, photon, refraction, resolution.
Easter Holidays
Holiday? What a great opportunity to catch up and get ahead! Anyway it's raining. Remember that everyone feels a lot of pressure when then approach GCSE years, it's normal to feel overwhelmed at times but don't panic: you will feel much better by putting some time into your studies. Unfortunatley the workload will not stop increasing until after your exams, and you will be very very glad that you put time in early rather than leave it all until the final year.
Complete the definitions of the glossary above and put some serious time into learning these words. Ask friends and family to test you, or to quiz you if you prefer because it sounds more fun.
Research the life and work of Charles Darwin. Write a brief summary of his findings, and why it proved to be so important. Give an example of the process that he used to discover truth about evolution. Aim for two full pages including tables & diagrams. If you didn't also do this for Mendel, that would be worth doing first.
Remember: Darwin did NOT come up with evolution. What was his theory called?
Remember also that neither Mendel or Darwin (or anyone else) had any idea about DNA/genetics yet.
Make sure that you give an evolutionary explanation of ADAPTATION and HABITAT.
Who was Alfred Russel Wallace? What was the story there?
Why was Darwin's theory controversial?
Include labeled diagrams of Finch beaks to explain the theory.
Why were the Galapagos an ideal place for his research?
The excitingly high-budget film 'Master and Commander' has a character based on a nearly-Darwin, as well as lots of things blowing up. There are a lot of other films specifically about CD that I haven't watched.
Alien Design
Yes it's time we designed more aliens. Create an alien species and it's habitat, with pictures and the story of how it came to exist. See if you can find the 'Alien Worlds' documentaries. If you can't, get your parents to send me an email and I can transfer them over. Go wild but this time it is very important that you frame everything with correct vocubulary and explain the evolutionary pressures that shaped your species and that make it uniquely suited to exploit it's environment.
Week starting 4 April
Yes, there's a lot of new words… Start to compile your own glossary based on the list above, using whataver format works best for you. Find reliable definitions that you can understand- some word will only make sense if you already know other words. Set a target -such as 3 new words each day- and repeatedly test yourself. You will only remember these words with repetition. See if someone can test you.
Research the life and work of Gregor Mendel. Write a brief summary of his findings, and why it proved (eventually) to be so important. Give an example of the process that he used to discover truth about genetic inheritance. Draw a simple table to show the inheritance of 2 alleles labbeled Y & y. Aim for one full page including table and any other diagrams.
This is a good webpage but you can easily find others: https://www.sciencelearn.org.nz/resources/2000-mendel-s-principles-of-inheritance
This is the TED ED video we watched: https://www.youtube.com/watch?v=Mehz7tCxjSE
Week starting 28 March
It's all about DIFFUSION, OSMOSIS & ACTIVE TRANSPORT. You must know the differences and meanings of each. Draw diagrams, make cards, recite the definitions again and again and again until you will never forget them. There is no other way: learning the meanings of lots of new words is at least 50% of the mountain you are climbing.
Cognito Biology: https://www.youtube.com/playlist?list=PLidqqIGKox7X5UFT-expKIuR-i-BN3Q1g
Numbers 7, 8 & 9 cover the 3 terms.
Bitesize on Osmosis: https://www.bbc.co.uk/bitesize/guides/zs63tv4/revision/4
You must be familiar with the term 'concentration gradient' and which of the processes go up and down it. Also the difference between Active and Passive and meaning of 'semi-permeable/selectively-permeable membrane'.
Research 3 examples in life for both Osmosis and Active Transport.
For those wanting to go for the higher paper and/or 3 GCSE option, start looking at the DNA transcription & translation process in detail. It's amazing but also complicated, because so are you. Don't expect to get it straight away, keep coming back to it.
Cognito: https://www.youtube.com/watch?v=3jwDl7nYBPM
Amoeba sisters: https://www.youtube.com/watch?v=Qqe4thU-os8
Amazing visualisations here: https://www.youtube.com/watch?v=7Hk9jct2ozY and here: https://www.youtube.com/watch?v=TNKWgcFPHqw
Week starting 21 March
First: revise everything from September if you have not yet done this. You will need to spend extra time this week as we also need to push on with Biology now too.
Make absolutely sure that you know the names and functions of all of the organelles.
Research and write a paragraph with a diagram to explain the following: What is the meaning of 'Complementary Base Pairing'?
Explain the meanings of 'Meiosis' and 'Mitosis' and how they fit into the 'Cell Cycle'.
Week starting 28 Feb
Make sure you have fully revised everything we have covered since September. Go back through all of your work in your books, cards and on this page.
Learn and memorise all of the structures of the cell, the differences between types of cell and MRS NERG.
Here are 2 different examples of hierarchies of life and species classifications. Learn the different orders in each hierarchy.
In your own words write a brief description of the following, making clear their differences: EUKARYOTIC CELL, PROKARYOTIC CELL, VIRUS.
Video for labeling cell structures. Pause it when each new cell appears, sketch it and try to label what you can first before it is shown in the video. https://www.youtube.com/watch?v=sdpmVQooYS4
Remember: the more times that you draw and label cells the better you will remember them.
List 3 things that plant cells have but not animal cells.
February half term
Revise Physics & Chemistry. Scroll down this page and look at everything from last September, check that you are familiar with it, look again at the resources, try the questions. Going back over previous work is a very good way to fix it in your memory. Next week we will test on work so far.
We will be starting on Biology the following week so look back even further to the work we covered last year. Start on Biology Cognito + free science lessons. If you search 'biology GCSE' you will find some other reources.
Watch this animation of DNA and protein building: https://www.youtube.com/watch?v=gG7uCskUOrA
Watch this Veritasium about DNA replication: https://www.youtube.com/watch?v=X_tYrnv_o6A
We will start Biology assuming that you are familiar with Cells (and all the cell structures), organ systems and everything else we covered last year.
CHEMISTRY GLOSSARY
ATOM: smallest unit of an element
ELEMENT: sustance that cannot be further broken down by a chemical reaction. Always has same number of protons
MOLECULE: 2 or more atoms (can be the same or different elements) chemically bonded together
COMPOUND: pure substance made from more than one kind of element, chemically bonded together
PHASE: physically distincitve form of matter eg solid, liquid, gas. Sometimes called 'state'
MIXTURE: different substances that are NOT chemically bonded
SOLUTION: mixture that is uniform throughout, only one phase
HETEROGENOUS MIXTURE: separated, different regions or phases, different properties (eg salt & pepper)
HOMOGENOUS MIXTURE: uniform throughout, only one phase (eg salt water solution). Same as SOLUTION
HOMOLOGOUS SERIES: a 'family' of organic compounds that have same functional groups & similar properties
ORGANIC CHEMISTRY: compounds that contain carbon
HYDROCARBONS: molecules that only contain hydrogen and carbon atoms
ALKANES: hydrocarbons that are 'saturated' – only use single bonds on C atoms (cannot bond any more)
ALKENES:
Chemistry iss ALL about the periodic table to have a look at last year's work, do your own research in the usual places and make sure you have a copy of the table printed out. This is very useful:
https://www.instructables.com/Understanding-the-Periodic-Table-of-Elements/
PRINTABLE PERIODIC TABLE HERE!
Start learning and making flash cards for at least the first 20 or so of the elements, starting with the top rows.
Week starting 7 February
Organic Chemistry is the study of compounds that contain carbon, which can make many more possible compounds than any other element; there are over 70 million known compounds of carbon. It is also the basis of life. It has 4 possible bonds (the maximum for any element).
Build atoms with this nice interactive game: https://edu.rsc.org/resources/build-an-atom-simulation/1433.article
Watch and take notes on this Fractional Distillation of crude oil video here: https://www.youtube.com/watch?v=PYMWUz7TC3A
Learn the names and formula for the first 4 Alkanes.
Just for fun- check this Thoisoi video with lots of setting fire to explosive Cesium: https://www.youtube.com/watch?v=ytxx95g-kiA&t=337s
Week starting 31 January
Research Organic Chemistry. Make sure you learn the meanings of Alkanes, Alkenes, Hydrocarbons, Homologous Series. You also need to know by memory the names, structures & formula of the first 4 Alkanes.
Does organic chemistry only apply to living organisms?
Use this to help: https://www.youtube.com/watch?v=bOiYLKX9ZRY
Also watch & revise numbers 43, 44 and 45
FreeScienceLessons one here: https://www.youtube.com/watch?v=7AWwjKbRa_o
Week starting 24 January
Research the London Dispersion Force. What effect doe this have on a substances phase?
Do you understand Ionic Bonding? If not then spend some time researching it.
Make sure you take the Cognito tests every week on the subjects we have covered. Watch videos to help but NOT passively- you must be pausing and taking notes.
Reasearch Balancing Equations: https://www.youtube.com/watch?v=qquOFYOpdl0
Answers are included so you can check your work. I will not be marking these, it's for your benefit.
Explain/define & give examples of each of the following: atom, molecule, compound, solution, mixture, solute, solvent, element
Week starting 17 January 2022
See if you can draw dot and cross diagrams for: H2, H2O, methane, CH4, Magnesium Oxide
Make sure you are familiar with the terms in the glossary above, ready for a fun quiz. Fun.
Research and revise: Acids, Bases, Alkalis, pH scale.
This video is quite good on acids & bases: https://www.youtube.com/watch?v=RnyB2qbQtHk
Week starting 10 January 2022
Research the water molecule: what is it? Why is it weird? What is it's shape? Relate EVERYTHING to electrical charge (this goes for all work this term pretty much). You may have some notes on this from last year- go over them and go further.
The worksheet you started in the lesson:
Try this one only if you have researched Ionic Bonding:
These next 2 can seem a bit overwhelming, we have not covered a lot of this yet, but it is a useful resource for revision. Everything you need to know about atomic structure & Bonding on one sheet (each):
Remember- electrical charge is EVERYTHING. Have fun!
Week starting 3 January 2022
Write 2 paragraphs and make a card for each to explain covalent and ionic bonding.
https://www.bbc.co.uk/bitesize/guides/z6k6pbk/revision/1
PHYSICS GLOSSARY
The Physical World is made up of Matter, Energy & Entropy

MATTER: has Mass and takes up Space

ENERGY: the capacity to do Work, measured in Joules

ENTROPY: the amount of Disorder/chaos in a system

WORK: the transfer of one kind of energy to another

FORCE: a push or pull upon an object, measured in Newtons. Only the effects of a force can be seen.

SPEED: distance covered in a certain amount of time

GRAVITY: attractive force between any objects, increasing with mass, decreasing with distance

FRICTION: force resisting the motion of materials (including liquids & gas) moving against each other.

KINETIC ENERGY: the energy of objects in motion

VELOCITY: oooooooh

BATTERY: one or more cells

CELL (electrical): electrical power supply. Converts stored chemical energy into electrical potential energy

CURRENT: a flow of electrical charge

VOLTAGE: difference in electrical potential energy. Often called 'potential difference'

COWBELL: sound-making device triggered by movement and used to locate bovine absentees

INSULATOR (electrical): material that does not pass electrical current

CONDUCTOR (electrical): material that does pass electrical current

POTENTIAL DIFFERENCE: voltage

FREQUENCY
WAVELENGHTH
AMPLITUDE
LONGITUDINAL
LATITUDINAL
COMPRESSION (in a wave)
RAREFRACTION
Make Revision cards on anything that you think you will need to know. Keep using them, test each-other and order your cards with the ones you remember every time at the bottom of the stack.
Use the resources here, find your own (from reliable sources), make and use your cards for a minimum of 2 hour's work weekly to keep on track. If you find anything confusing then spend more time on that area. Put in the time and the fog will clear and you will feel good about it.
Some videos may cover things that we haven't done yet- don't worry if you find some parts confusing, just focus on the parts that are familiar from our lessons so you can understand them. Watch more than once and TAKE NOTES- Just watching them will not give you much benefit.
Keep up with current issues in science! I will add any interesting links here, please pass on any that you find as well. Good sci-fi films and books can be excellent at thinking imaginatively about science, and bad ones are good so you can spot the things that they get wrong (like hearing explosions in space).
Keep trying the Cognito practice questions every week, watch the videos and make notes & cards when you find areas that you need more work on. Also use Bitesize, the KS3 Revision books, wikipedia and other legitimate resources.
Home Learning for 6 December
You can add to or amend the last (longer) answers from the last lesson, which we will go through on Monday:
What do proteins do in the cell? (2 word answer)
A 1kg metal and a 10kg metal ball of the same size are dropped simultaneously from a tall building. Describe what happens. [paragrah]
A meteorite burns up as it enters the earth's atmosphere. Describe the forces involved.
Why does the moon orbit the earth? [Don't just say 'gravity']
Electricity generation. Look at p102/section 13 of your revision guide, and research in the usual places. We will discuss your answers and research together on Monday. You will need to use some previous work on energy processes, and a little bit of electromagnetism- this is difficult so don't worry of you find it hard, everyone does.
Coal fired power stations and nuclear power stations generate electricity in exactly the same way. Explain. [paragrah]
What is the problem with fosil fuels? Why is the whole world saying that we need to phase them out? [paragrah]
Explain all of the energy processes and conversions in a coal-fired power station. Draw a diagram.
Roughly how much of the world's electricity is generated from coal?
How does a wind turbine generate electricity? Draw a diagram.
What is the role of magnetism in electricity generation?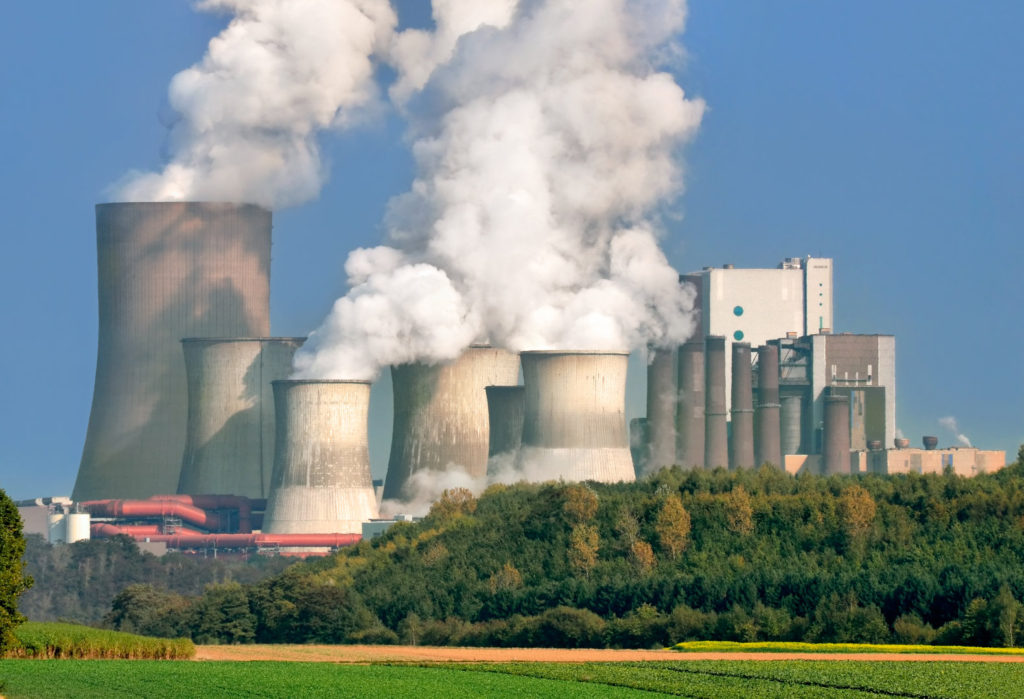 This is a picture of a coal-fired power station. What is coming out of the chimneys?
https://en.wikipedia.org/wiki/Coal-fired_power_station
Home Learning for 29 November
Waves waves waves. Remember- waves are fun. Lots of things come in waves, including waves, and waves of waves. EM waves are a bit more confusing, because there is no medium that is waving (like air or water), they are just waving at themselves really. Best to try to understand the basic properties of all waves and then think a lot about waves. Waves.
Try to find out more about the difference between LATITUDINAL and LONGITUDINAL waves, look at images and videos for both, draw your own representations. Longitudinal waves go aLONG, like you saw in the slinky. Find and learn the definitions for the new vocab in the glossary above. Look at waves, think about waves, make cards about waves. Waves.
Bitseize pages on waves are pretty decent: https://www.bbc.co.uk/bitesize/guides/zgr8d2p/revision/1
Waves.
Also look in the usual places then test yourself with Cognito. When you know all about wave properties, come back to EM waves.
Home Learning for 24 November
Research the Electromagnetic Spectrum (this is a new image, with lower freq on the left now)
What is the difference between 'wavelength' and 'frequency'? How are these two concepts related?
How are EM waves different to sound waves?
Describe all of the EM waves that you might find in your home. What are they used for and how are they different.
What are EM waves? What is waving?
How fast do they travel?
Do they get weaker the further they travel, like sound waves? Explain your answer.
Make a revision card for each of the sections of the EM spectrum, with characteristics, dangers, uses, frequency bands.
Home Learning for November
REVISE EVERYTHING SO FAR! Scroll down this page to remind youself and find links.
Create your own student acount with Cogito:
For exam board choose 'don't know' and choose the combined science option. Choose Physics Practice, Topics 1, 2, 4 & 5. Choose the foundation tier (unless you find it too easy). Try setting yourself 5 questions to try each day, and try to answer them BEFORE watching the video for each (there is a play icon that will take you straight to the related video). There will be questions that we haven't covered yet but any that are on subjects we have covered that you can't answer, you must go back to the lessons and revise.
This is a fantastic resource that will help you learn and practice. The videos and other supporting material that we have used will help you when you get stuck or can't answer the questions. Good luck!
---
Home Learning for 3 November
Complete this pdf worksheet about models of the atom:
https://noisytoys.org/wp-content/uploads/2021/11/Models-of-the-atom.docx
Research Light & Colour, p89-91.
Watch this video and others you find about the Electromagnetic spectrum: https://www.youtube.com/watch?v=cfXzwh3KadE
Complete this pdf worksheet about colour:
https://noisytoys.org/wp-content/uploads/2021/11/Questions-on-colour-1.pdf
Make cards & revise these subjects.
Home Learning for half term
VOCABULARY: Learn the definition and usage of all of the terms listed in the gloassary above. Make a card for each if it helps you learn it- we will be using these terms from now on with an assumption that you know what they mean. Some of them (like voltage) are hard to understand, don't worry- everyone finds them hard.
MAKE & USE your cards. You have a nice stack now, use them in the ways we have discussed, ask friends and family to test you, turn it into a game, improve them, add to them. They will fix this difficult stuff into your brains forever.
REVISE everything that we have covered so far this half term.
I won't usually list videos any more, you know where to look: Cognito, Bitesize, search 'ks3 physics forces' on youtube. A lot of cognito videos don't come up on their home page, but you can find the full Physics playlist here: https://www.youtube.com/playlist?list=PLidqqIGKox7UVC-8WC9djoeBzwxPeXph7
Download this pdf and work through the questions, using the formulas we have covered. Whenever you get stuck, research in the usual places until you know how to do it.
https://noisytoys.org/wp-content/uploads/2021/10/Questions-speed-forces.pdf
We will be starting on atoms after half term so it would be a good idea to do some preparatory work on those lovely little things.
Home Learning 28/9/2021 – Use these resources for minimum of 2 hour's work weekly.
For Wednesday 29 Sept:
Look at these circuit diagrams a-e. For each one, state whether 1) the motor is on or off 2) the buzzer is on or off.

Look through the whole Bitesize topic on Electricity: https://www.bbc.co.uk/bitesize/topics/zgy39j6
Have a go at this FUN quiz (you will need to watch the video above): https://www.bbc.co.uk/bitesize/guides/zsfgr82/test
Last year's work
BIOLOGY GLOSSARY
ORGANELLE: structures within Eukaryotic cells (organs of the cell)
CELL: smallest unit of all living things
TISSUE: collection of similar cells doing a specific job
ORGAN: Group of tissues
ORGANISM: an individual living thing
SPECIES:
CELL MEMBRANE:
AMOEBOID ZINGATULARIAN:
NUCLEUS:
CYTOPLASM:
MITOCHONDRIA:
RIBOSOMES:
EUKARYOTES:
PROKARYOTES:
Home Learning for the summer : Revision cards
Cards are the best way to learn lots of information. They can have simple diagrams or bullet-points, but shouldn't just be full of writing. You need to make a minimum of 30 over the summer but 100 would be far better. Make them clear, neat and simple but don't spend too long on each one. You could make 3 each day, or set yourself a weekly target.
Send me a picture of one of your best cards so I can put them up here and we can get ideas from each other's systems.
Use colours and symbols- neauroscience tells us that this helps the brain to learn and remember information better than just text on it's own.
Decide on a system to categorise your cards. A coloured strip down the side to show Physics, Chemistry & Biology works well. You could use symbols or more colours for different topics, for example you will need several cards that are about cells.
You will use these cards for the next 3 years so you will definitely need a container (maybe a plastic tub) to keep them in.
Highlight or underline KEY POINTS & VOCABULARY using colours and CAPITAL LETTERS.
Think carefully about how much information to put on each card. Don't cram it in, it needs to be quick and clear so you can pick up a card and read it in about 10 seconds.
Make cards for things that you don't know, using your science book or text book.
Some cards could be test cards with questions on one side and answers on the back. You can test yourself and then each other in September.
We will continue making cards next year so eventually you will have a lot of them, so make sure you are happy with your system and make sure they are neat and clear.
Using your Revision cards
Take them with you if you go away, keep them handy so you can glance at a card several times each day. Just making beautiful cards and keeping them in your room is a waste of time.
Everyone must find their own best way to learn- we are all different but here is what I find useful for me: Pick up a card several times every day and read the information. Put the card down and see if you can remember everything that was on it. Next time try to remeber before you look at the card. Keep going until you are sure you know that card fully and can remember it even after a few days.
Good sleep is essential for information to be stored in long-term memory. Exercise and good diet have also been shown to help.
Home Learning for 7 July
Research the Endochrine system, draw a diagram, labelling the different organs and writing a detailed explanation of the system. Minimum 1 full page including half a page of writing. Minimum of 1 hour's work, although more would be preferable.
Remember to also spend some time on Bitesize revising the subjects that we have already covered.
Home Learning for 30 June
Test yourself with these questions: https://www.bbc.co.uk/bitesize/guides/z9hyvcw/test
Research the Circulatory system and draw a diagram of the heart, labelling the different parts.
Write a detailed description of how the heart and the circulatory system work. One paragraph or half of a page- imagine a 6 mark exam question.
Research the Reproductive system. What makes it fundamentally different from all of the other organ systems? Describe in detail what happens after fertilisation (gestation).
Everyone will need to be ready to present their research by Wednesday.
Home Learning for 23 June
Watch this video about the Digestive System: https://www.youtube.com/watch?v=vMI46qGQMDw
How long does food usually stay in the stomach for?
Where does it go after that?
What are the 2 main ways that food is broken down in your body?
Which enzyme is used in the stomach to break down proteins?
How does your stomach kill bacteria?
Where does most of the digestion take place?
Which organ neautralises the acid from the stomach?
How is this done?
Which organ extracts excess water?
Which organ produces bile?
Where is it stored?
List all 9 Organ Systems, write a 1 sentence description of it's purpose and list all of the organs involved.
Home Learning for 16 June
Watch this video (more than once is better): https://www.youtube.com/watch?v=gEUu-A2wfSE&t=310s
Look at and learn everything on thia page: https://www.bbc.co.uk/bitesize/topics/znyycdm/articles/zbpdqhv
Now design the organ systems for your alien life-form that you invented a few weeks back. You can use variations of human organ systems or make up completely new ones, but make it realistic. Think about the essential life processes (MRS NERG) and how the organs will achieve them. One whole page of writing & diagrams minimum, one hour's work minimum. More is more.
Home Learning for half term
From next week we will be focusing on the human body -including processes of digestion and respiration- as well as organs and systems in plants and animals. Make sure that you are competely familiar with Bitesize sections on these topics and answer the following questions. Some answers can be short but others will need a full explanation.
Add in definitions from Bitesize to your glossary terms
Why must a healthy diet include protein?
What do proteins break down into inside your body?
What are lipids?
Are they bad for you?
What is the difference between aerobic and anaerobic respiration
What does your body break down glucose into?
What is the name of this process?
Where is the Fibula bone?
What is a synovial joint?
Does the queen poo?
In your own words, explain how plant reproduction works, using glossary terms whenever appropriate (looking for a decent paragraph of writing here).
Homework for 19 May
Design your own lifeform. Be imaginative, don't worry about whether it's scientifically right or not, but try to make it plausible. Feel free to place it on a different planet with a completely different ecosystem. Consider:
habitat
diet (predator/prey?)
threats
opportunities exploited
specialisation
evolutionary development
other co-habiting species
Use pictures, diagrams, descriptions and information. Minimum one hour's work. You will present and describe your lifeform to the class next week, so be imaginative and descriptive.
Homework for Wednesday 12 May
Minimum of 1 hour's work, more would be better. If you are unsure of anything use Bitsize and the other resources to fill the gaps. Take responsibility for your learning, it will not happen otherwise.
In rough, copy out all of the glossary above and write the definitions. Use Bitseize to find them.
Go through all of Bitseize sections on genetics, watch the videos and complete the quizes. https://www.bbc.co.uk/bitesize/topics/zpffr82
In one short paragraph (at least 6 lines or sentences) explain how the speckled moth changed colour. You can use this page to help: https://www.bbc.co.uk/bitesize/guides/ztn9y4j/revision/3
Homework for Wednesday 5 May
All work should be completed in rough and in your own words. Try to remember first, have a guess, then look it up, correct any mistakes and learn. We are looking for about an hour's work. Don't worry if anything is difficult or hard to understand, it's complicated stuff. There are no marks or fails so give it a shot. It doesn't matter if the answer is wrong but it does matter if you don't try. Keep up with Bitesize and other resources.
Add the definitions of the new vocab above (in rough)
List 3 differences between Eukaryotic and Prokaryotic cells
what is DNA (element? organelle? etc)?
What does DNA do?
Why is your DNA important to you?
Is DNA alive? Give reasons for your answer.
What is the difference between organs and organelles?
In a few sentences, describe what the word 'evolution' means to you.
Homework set 22 April
Explain the purposes of proteins in the cell, give examples. (short paragraph)
What are proteins made of?
Which part of the cell is responsible for storing and transferring information? How is this done?
Which organelles are responsible for energy production in plant and animal cells?
Are animals dependent on photosynthesis?
Homework for Easter Holidays
It's all about cells.
Look at all of Bitesize 'Living Organisms': https://www.bbc.co.uk/bitesize/subjects/z4882hv
Watch this 'In a Nutshell' (watch them all if you want to know everything about everything. These videos are great but they don't only cover science- there is some opinion in there. They are also very very fast and cover a lot of ground so don't worry of you don't get a lot of it- some of the material is well beyond GCSE level.
Watch this Cognito on cells:
Questions:
List all the differences that you can think of between animals and plants
Draw a diagram of a plant cell and an animal cell, with the important features labelled
What is the function of the nucleus?
CHEMISTRY GLOSSARY
ELEMENT: A substance made of one type of atom only.
ATOM: The smallest part of an element that can exist
COMPOUND: A substance formed by the chemical union of two or more elements.
MIXTURE: Two or more substances that are not joined together. The substances can be elements, compounds, or both.
MOLECULE: A collection of two or more atoms held together by chemical bonds.
DIFFUSION: The movement of molecules from an area of higher concentration to an area of lower concentration.
SOLUTE: The solid being disolved into a solvent to form a solution
SOLVENT: The liquid in which the solute dissolves to form a
solution.
SOLUTION: The solvent and solute combined
REACTION: a process in which one or more substances are changed into others
REACTANTS: Substances present at the start of a chemical reaction.
PRODUCT: A substance formed in a chemical reaction.
CATALYST: A substance that changes the rate of a chemical reaction without being changed by the reaction itself.
ACID: Having a pH lower than 7.
FROG: a deliberate error to see who does their homework
ALKALI: Having a pH greater than 7.
BASE: A substance that reacts with an acid to neutralise it and produce a salt.
CORROSIVE: (esp of acids or alkalis) capableof destroying solid materials
NEUTRALISE: To be made neutral by removing any acidic or alkaline nature.
Homework set 25 March
Explain as many of the factors that contribute to water molecules forming and being attracted to each other. Think ONLY of electrical charge.
Memorise the first 2 rows of periodic table symbols- we will have a quiz this week.
Also memorise all of the vocabulary above. Add any missing to the list in the front of your books.
Watch this video (more than once if you need to) and take notes. This will also be useful for after easter when we start on Biology.
Homework set 18 March
IF YOU WATCH ALL OF THE COGNITO VIDEOS ON CHEMISTRY YOU WILL UNDERSTAND THIS AND PASS YOUR EXAMS. Simple really.
Copy the new vocabulary word above. This time you have to find and learn the definitions. Check the Glossary at the bottome of BBC Bitesize pages. We are moving on to Biology soon so make sure that you are familiar with the basics of Chemistry, as it forms the basis of most Biology!
Don't get left behind- if some of what we have been covering recently is confusing, just watch the videos from previous weeks, several times if you have to, it's all there.
Read and learn all about Chemical Reactions. Make sure you understand this. https://www.bbc.co.uk/bitesize/topics/zypsgk7
Acids and Bases. We will do some testing of different substances this week. Watch this video but remember this is Key Stage 4 (GCSE) level:
Please bring in one or more (safe) liquids in bottles to test this week.
Read these pages: https://www.bbc.co.uk/bitesize/guides/zyn3b9q/revision/2
KEY STAGE 4
Some of you really understand the basics of electron shells and ionic bonds. If you feel confident with these terms, please go ahead onto Covalent Bonds:
Homework set 11 March
Draw the electron shells for at least 4 elements out of the first 20. Work out whether each will become an ion and what charge it will have, drawing and labeling the ions in the correct way. Use this to help you:
Watch this video on Alkali metals:
https://www.youtube.com/watch?v=dZGDUKQa_6g
Also this one on ionic bonds:
Work for week starting 1 March
What are the advantages to finding water on a planet where you want to build a habitable base?
What is a space elevator and why would it be helpful for space exploration?
What are the material properties that you would be looking for when choosing which substance to use for:
space suits
outer shell of a space vehicle
rocket fuel
Can you use the periodic table to work out the symbols for these compounds:
iron oxide
carbon monoxide
sodium chloride
calcium carbonate
silver nitrate
water
lithium bromide
copper sulfate
Work for week starting 22 Feb
Life on Mars? Just for a change let's do some stuff about Mars. Here are a few questions to think about and research. Note down what you discover in a rough page of your books. You will need to think back to some of the stuff we did last term.
What challenges would need to be overcome for humans to be able to live on Mars? Why is it dangerous?
A spacecraft travels from the Earth to Mars. Describe the forces that is must overcome.
Design and sketch a Mars base that could support human life. Label and describe the separate parts. Be imaginative but think about food, air, water, communication etc
Use the NASA website to help you, as well as other reliable sources. https://www.nasa.gov/mission_pages/mars/main/index.html
Recommended book: 'The Martian' by Andy Weir. Fun but very informative as well (contains some naughty words). Great audiobook version available too.
Work for week starting 8 Feb
1)
Use the Periodic Table to work out and write down which elements -as well as how many of each- are combined in the following molecules (remember that capital letters are important).
2)
Copy this table neatly (use a ruler) into your books and learn it:
Properties of different States of Matter
Property
Solids
Liquids
Gases
Volume
Definite
Definite
expand to fill
container
Shape
Definite
match shape
of container
match shape
of container
Density
high
medium
low
Compressibility
difficult
difficult
easy
Ease of Flow
don't flow
flow easily
flow easily &
diffuse
3)
Give an everyday eaxmple of: a solvent, a solute and a solution
Work for week starting 1 Feb
Research METALS
Properties common to metals, and exceptions
Position on periodic table
uses- relate to properties
atonic structure
use Bitesize, wikipedia or other sources
summarise your research neatly in your book
everyone will be asked to feedback next Thursday
Work for week starting 25 Jan
Copy and learn the vocabulary above. This does not mean just reading it! Copy it into the front inside cover of your science book. Learn them by heart so that you know them without looking. Test yourself. Copy the list onto a sheet of paper as well and stick it up in the kitchen or somewhere you see it every day. Learn a new one every time you pass.
Learn and memorise the symbols for: Hydrogen, Helium, Carbon, Oxygen, Nitrogen, Lead, Gold, Sodium, Magnesium, Iron, Sulphur, Zinc, Calcium, Aluminium, Chlorine
Read and complete ALL of the States of Matter unit and the Atoms, Elements and the Periodic Table, Chemical Reactions and Tests units:
Draw three sets of small squares or circles to represent a SOLID, LIQUID & GAS. Draw these in a triangle with arrows going between each STATE of MATTER. Write the words for CHANGES in states of matter next to the arrows.
https://www.bbc.co.uk/bitesize/topics/z9r4jxs
https://www.bbc.co.uk/bitesize/topics/zstp34j
https://www.bbc.co.uk/bitesize/topics/zypsgk7
This may seem a lot of work but we need to start getting ready for GCSE level work; you should expect to be spending over 4 hours each week in the 2 years before your GCSE exams, so at least 2 hours each week would be the minimum for now so you are well prepared for this. Feel free to find out about other areas of science but remember that chemistry is what we will focus on now until March.
Intro to Chemistry
Watch this video:
Yes, it's an American accent, get used to that. Please watch it twice, take notes of any key points and also anything that you don't understand. There are many similar videos, some good, some not. Try to find some other good ones and write down or save the link for everyone else.
Periodic Table- download
Please download this onto a pad or computer, you will need it. A printed version is nice too.
https://www.rsc.org/periodic-table
The app/online version is good as you can see what each element is and what they are used for, but a printed version will also be useful for lessons.
We will soon be playing Elemental Bingo each week using flash cards and memorising the key info and symbols.
For further listening/learning I can recommend this (optional) audio series on the BBC which gives plenty of info on the uses of some of the elements:
https://www.bbc.co.uk/sounds/brand/p01rcrn6
Make sure you learn all of the key words in the glossary at the bottom of the page.
You will need to complete ALL of the units in Bitesize Chemistry in a few weeks so we can start of the GCSE level stuff. Feel free to move on to the next units, but it's best to learn each one really well.
Work for week starting 11 Jan
BBC bitesize Chemistry. Read & watch all pages on both of these units, then take the tests and see what you can remember. We will have a little test on Thursday. It can seem like a lot to remember- you definitely won't get it all the first time. Repetition is the only way. These webpages contain EVERYTHING that you need to know for now, so use them.
https://www.bbc.co.uk/bitesize/guides/zt2hpv4/revision/1