Interactive noisy messy science shows Gallery
Stage shows, ground-level shows, assemblies, participatory demonstrations and activities.
Bass in your Face, Bass buzz, Goop Test, new shows
Bass in your Face
stage / school / street show
This stage show has been featured on a theatre stage at the Big Bang Fair (the UK's largest STEM event), Maker Faire UK, the Science & Media Museum (Bradford) the Museum of Science & Industry (Manchester), and many other STEM events, Primary and Secondary schools across the country.



The show is performed by Stephen Summers who uses powerful amplified bass vibrations and a hacked hard drive to make volcanic clouds of flour explode into the air, to scatter lentils for several metres, to animate dancing Goop monsters (cornflour/non-Newtonian fluids/Ooblek) and of course to shake the room with lovely low bass (sound levels are kept well within safe limits). The show focuses on sound waves, vibrations and the use of electromagnetism in the design and working of loudspeakers. We also cover the full audible frequency range (bad news there, adults!), recreate the original Start Wars laser blaster sound, find out how to cheaply and easily experiment with sound using Piezo contact microphones and how to use the same technology for musical applications with an understanding of the science of sound.
GROUND LEVEL SHOWS
Excitingly Dangerous Science Demonstrations that you can take part in.
For public spaces or free-flowing events where people come and go and can get involved in some of our noisy and messy activities, or just watch if they prefer.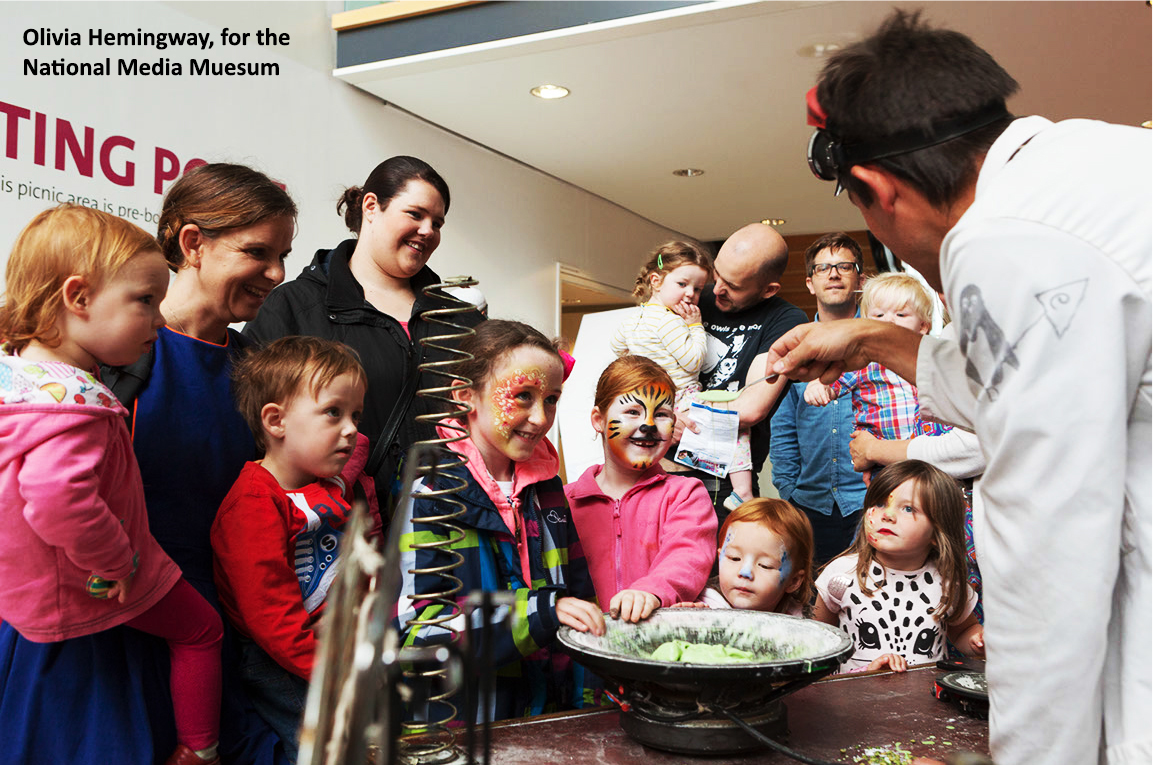 Dare you try the infamous Bass Buzz? Feel 1000 watts of bass power through your fingertips, see clouds of flour shoot into the air, duck from eruptions of lentils (or sometimes mung beans), marvel at water-based Cymatics, re-create a laser-blaster shoot out with an amplified slinky, shriek in utter horror at the bizarre life-forms animated with corn flour and powerful bass vibrations, as the Goop Test brings forth new life-forms that dance and metamorphose at the sound of the BASS….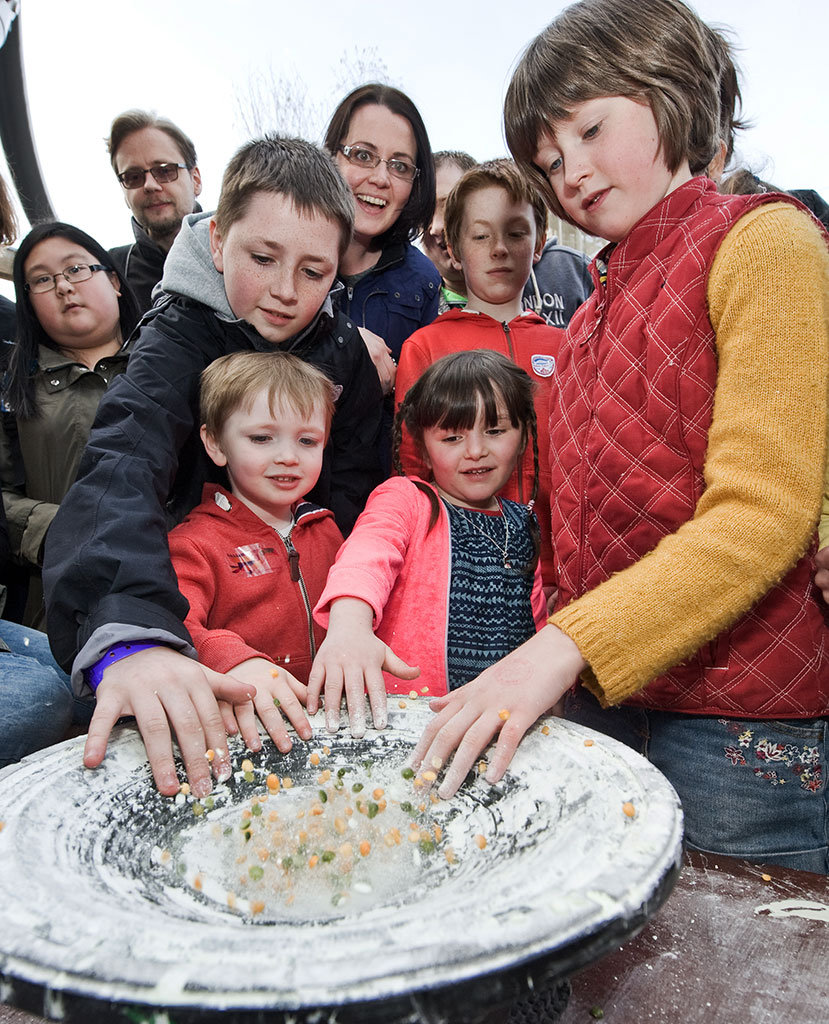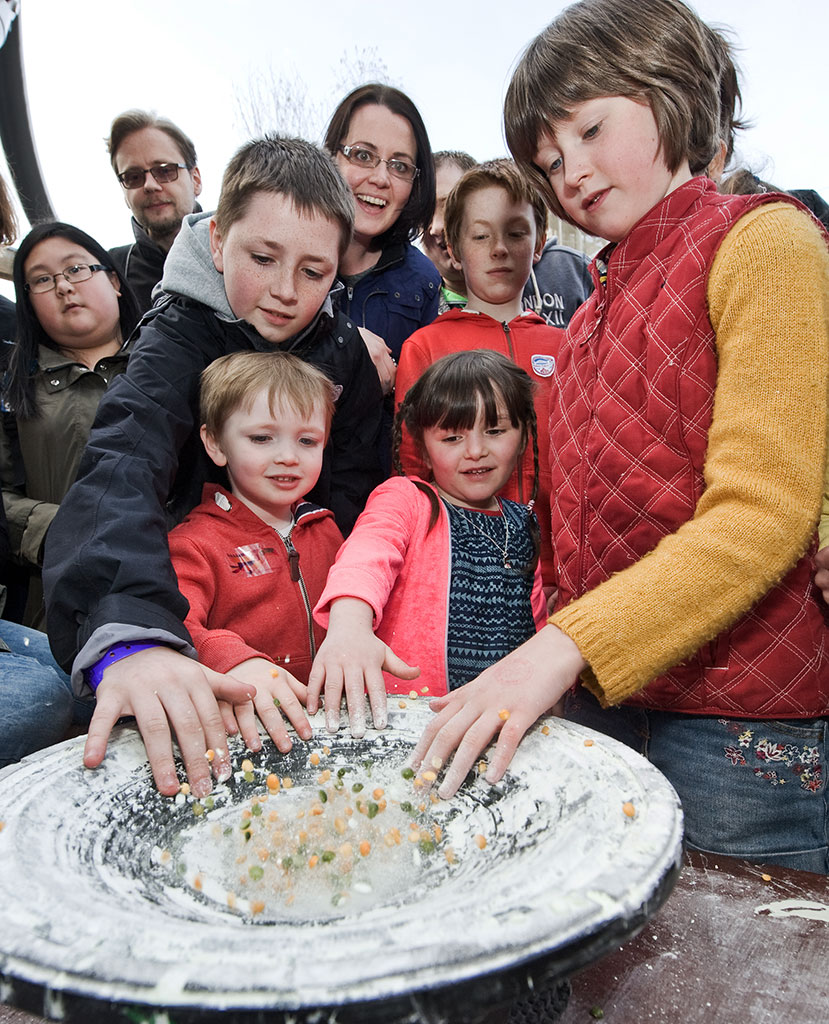 MORE SHOWS COMING SOON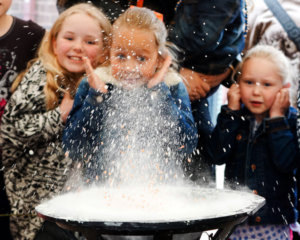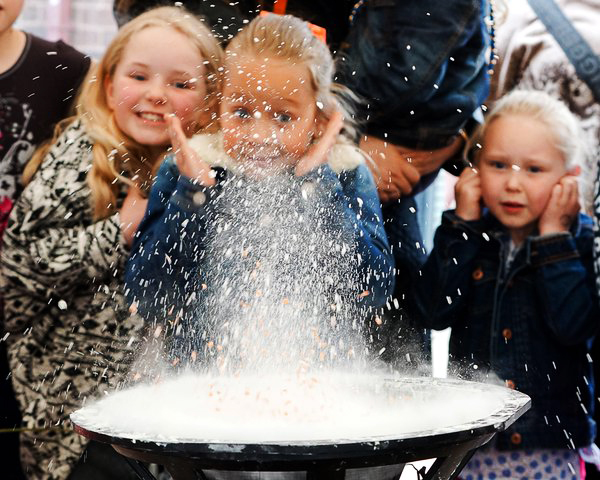 Music=Maths
'Music is nothing but unconcious arithmetic' -Gottfried Leibniz. Find out what he meant as we delve into the brain's unstoppable and unconcious search for patterns, and how its tendancy to do this makes us enjoy music. Featuring live cello and out of sync clocks, this show takes us from Bach to Techno, and we find there's not as much difference as you might think.