Participatory show for stage, school assembly or street
Feel that Big Bad Bass and find out what makes it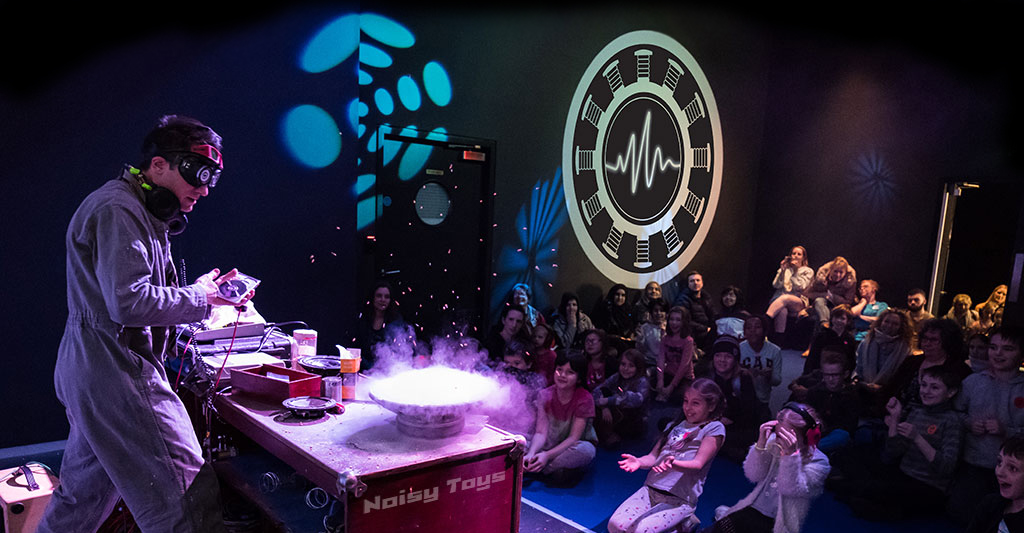 This stage show has been featured on a theatre stage at the Big Bang Fair (the UK's largest STEM event), Maker Faire UK, the Science & Media Museum (Bradford) the Museum of Science & Industry (Manchester), Big Bang Yorkshire & Humber, Big Bang South East and many other STEM events as well as Primary and Secondary schools across the country.
The show is performed by Stephen Summers who uses powerful amplified bass vibrations and a hacked hard drive to make volcanic clouds of flour explode into the air, to scatter lentils for several metres, to animate dancing Goop monsters (cornflour/non-Newtonian fluids/Ooblek) and of course to shake the room with lovely low bass (sound levels are kept well within safe limits).

The show focuses on sound waves, vibrations and the use of electromagnetism in the design and working of loudspeakers. We also cover the full audible frequency range (bad news there, adults!), recreate the original Start Wars laser blaster sound, find out how to cheaply and easily experiment with sound using Piezo contact microphones and how to use the same technology for musical applications with an understanding of the science of sound.