– No VAT is added to these listed prices.
– Discounts are usually available for multi-day events, or for multiple activities booked.
– Travel is charged at 30p/mile return for any job over 40 miles from HX7 (West Yorkshire).
– Accommodation may be charged for jobs which require an overnight stay; we will always try to find ways to minimise this expense.
– Discounts are also available for not-for-profit organisations and for winter bookings.
– Where additional leaders are required, the cost can sometimes be reduced if experienced support (helpers) can be provided by the event.
Shows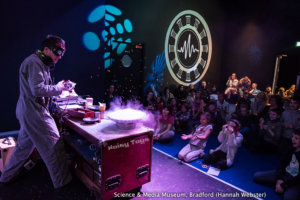 £300 1 show (45- 60 min)
£150 additional shows (same day)
Workshops
£400 – structured, 4 hours engagement
£250 – structured, 2 hours engagement
– Suitable for schools or similar settings, or events with a booking system
– One hour's workshop can be substituted for an assembly show at no extra cost.
£500 Drop-in, 4 hours engagement
£350 Drop-in, 2 hours engagement
– Suitable for events where people can come and go at any time.
– Two leaders/facilitators required, additional facilitation will allow for greater participation.
– £400 (4 hours), £250 (2 hours) if the event can provide sufficient helpers to facilitate.
Acousatron
– interactive installation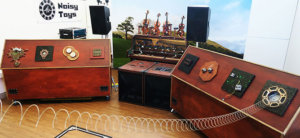 Prices vary according to the nature of the event. For installations longer than 4 hours a second team of facillitators is required. Please contact for a quote specific to your event.
£1000-£1200 1 day
£800-£1000 additional days
3-5 performer/facilitators required, unless:
£200 daily discount if the event provides adequate extra facilitators (so we provide just 2)
Audio Assault Buggy
– participatory walkabout / science busking / interaction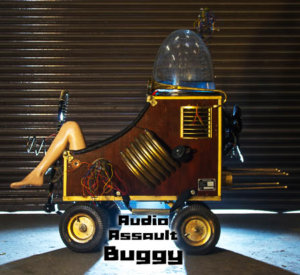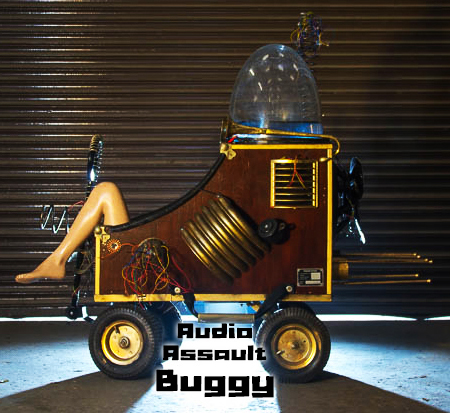 £400 (4 hours, 1 performer)
£500 (4 hours, 2 performers)
£600 Audio Assault Buggy + Bass Station (see below)(2 performers)
Bass Station
participatory demonstrations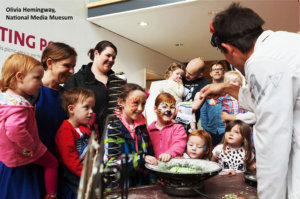 £400 (4 hours, 1 performer)
£250 (2 hours, 1 performer)
Bass Buzz, non-Newtonian fluids, laser slinky etc
£600 Audio Assault Buggy + Bass Station (2 performers)