A Terrifying, Interactive, Upcycled Noise Contraption
BOOM-TWANG-SPROING-BLEEP-SQUEAK-PARP-BANG-PLINK-PLUCK-BOING-BOOOOOOOOOOOOOM!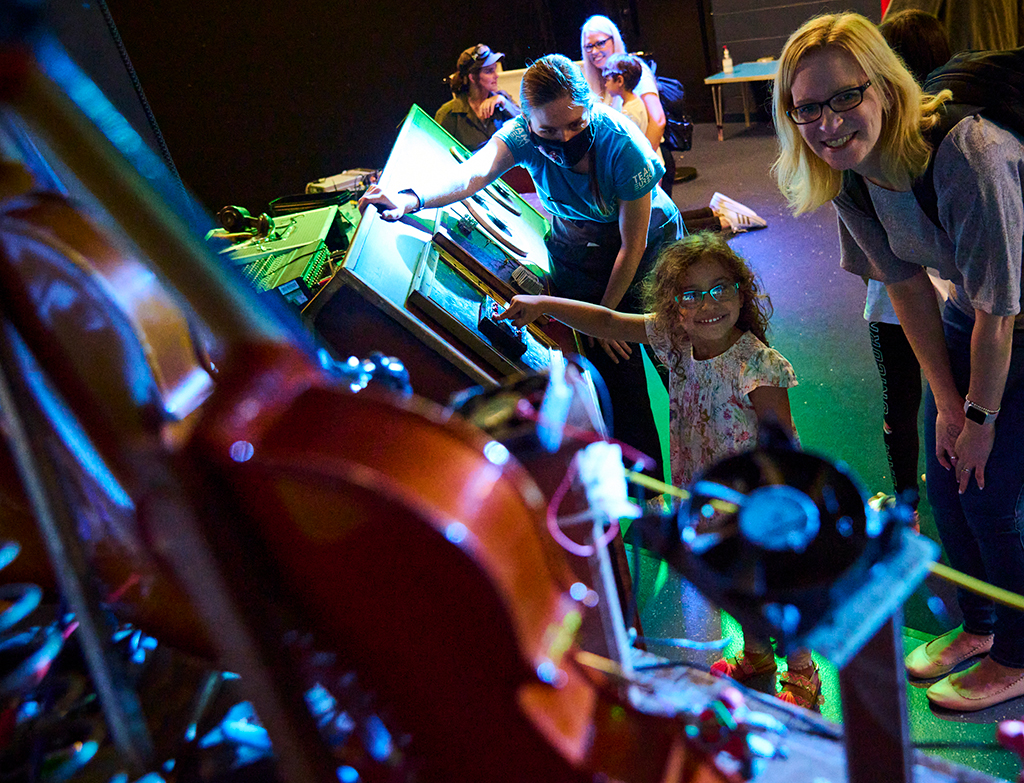 The heart of a piano, four violins, a rubber band, a door spring, an infrared Theremin, an analogue synth, a Nose Tester, some hacked Bass Drives, and a slinky; played by you with motorised mechanical agitators upcycled from dead computers.
This is raw analogue circuitry, electro-motors, mechanical systems and found acoustic objects built into a mechanelectracoustic contraption.
Large consoles house the controllers allowing groups of people to explore the sonic potential of each instrument and jam with their friends. What comes out is beautiful improvised electroacoustic music- or a horrendous cacophony, depending on your personal taste. Fascination guaranteed.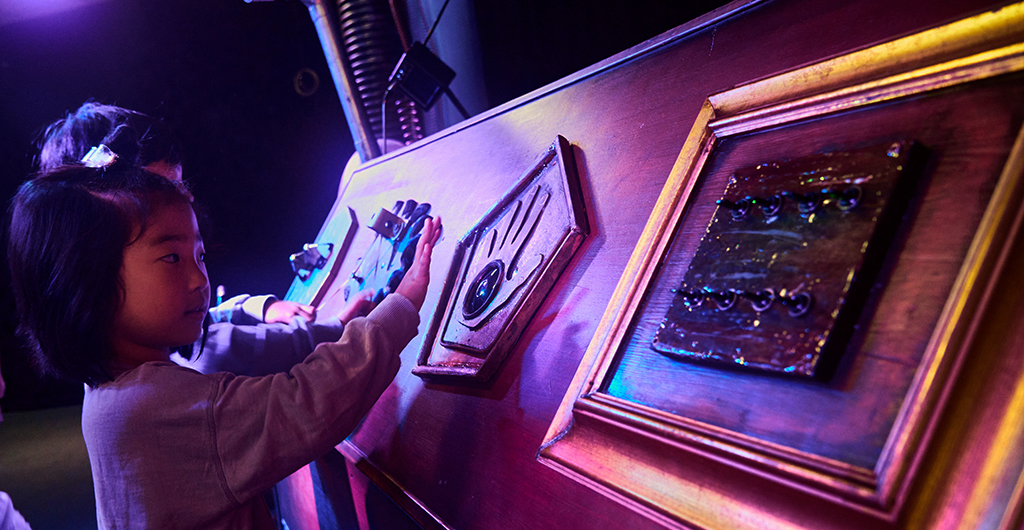 Caution: Deviant audio in use
The Acousatron is ideal for large events where lots of people want to have a go at something; a fully facilitated installation can easily cope with a footfall of up to 3000 visiting participants per day (drop-in). The consoles that allow people to interact with the instruments house eight specialist controllers, each of which has different ways of controlling the sounds. The amplified sounds are large, complex and constantly changing with participants watching and listening in fascination as they control motors which strum the strings of the acoustic instruments.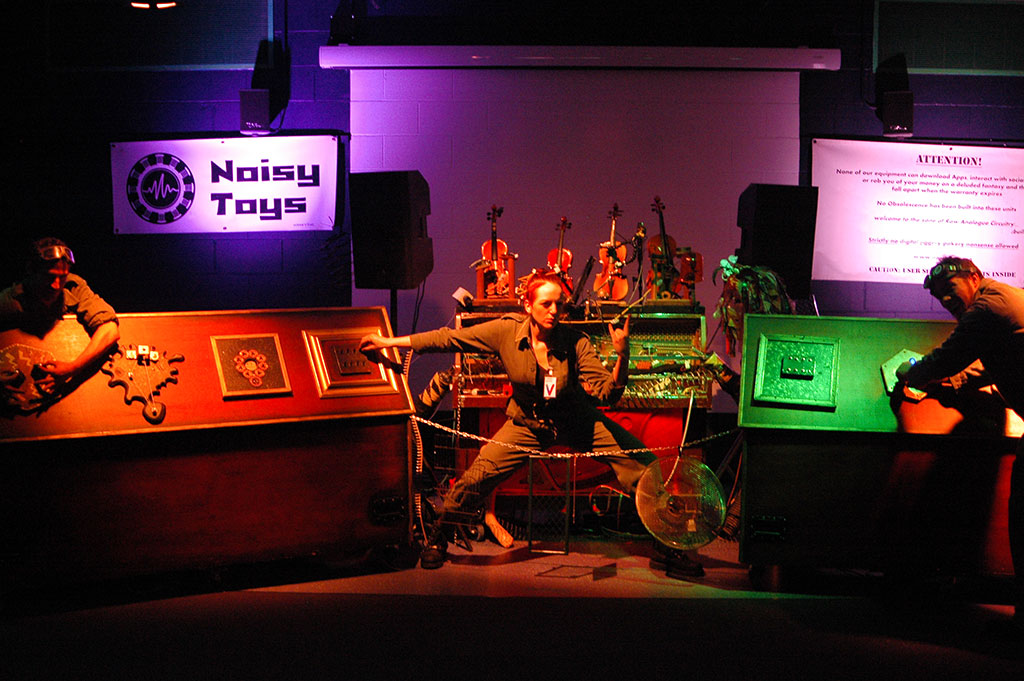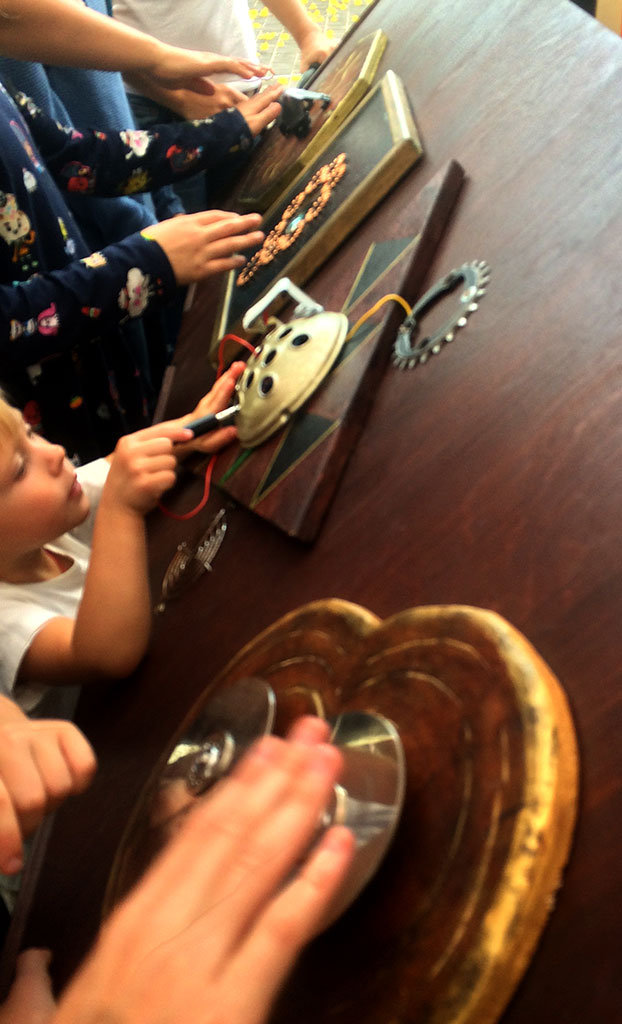 UK & Eurpoean bookings
The Acousatron V3 (as featured in the promo video) is supplied with 4kWatt sound system, lighting and everything else required. We can provide a 9m geodesic dome for some settings, or you can provide a venue. Performer/facilitators support the installation, encouraging participants to experiment and jam. The full set-up includes two focussed engagement activites: Nose Testing as visitors arrive (they must show the 'Nose Tested' hand stamp to enter), and then they get to experience the Bass Buzz before they leave.
International bookings
The consoles for the Acousatron V5 (as featured at the Moscow Maker Faire 2018 & 19) were built at FabLab Moscow using lazer cutters and CNC routers. All of the active instruments we can take in our luggage. This means that the Acousatron installation is available for use at any event anywhere in the world if you have access to Fab Lab -type tools and can provide the PA system (with extra bass).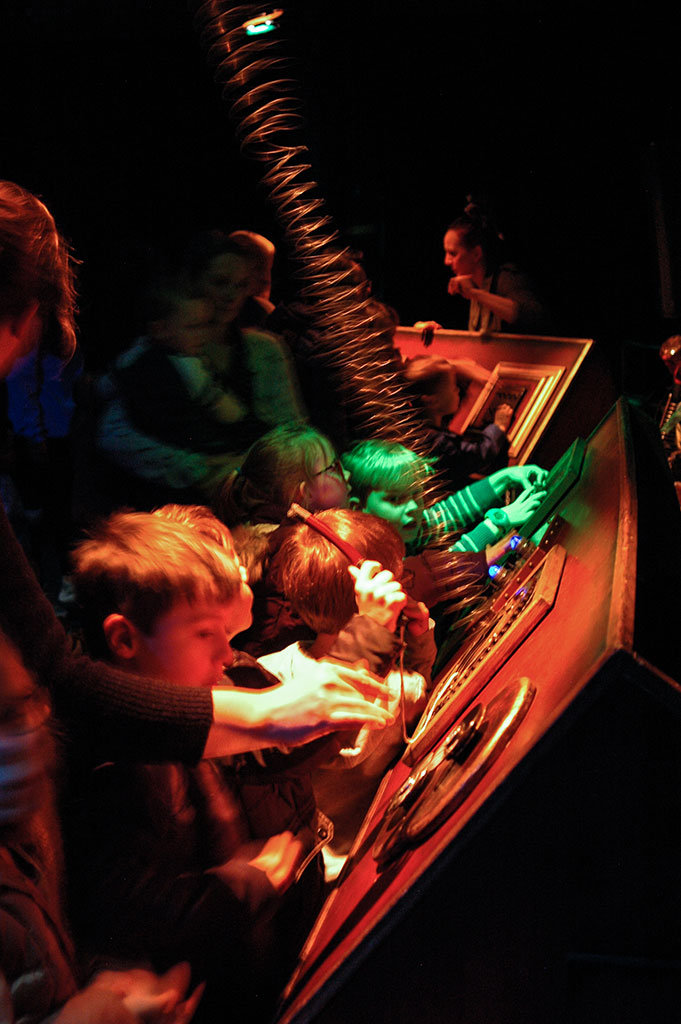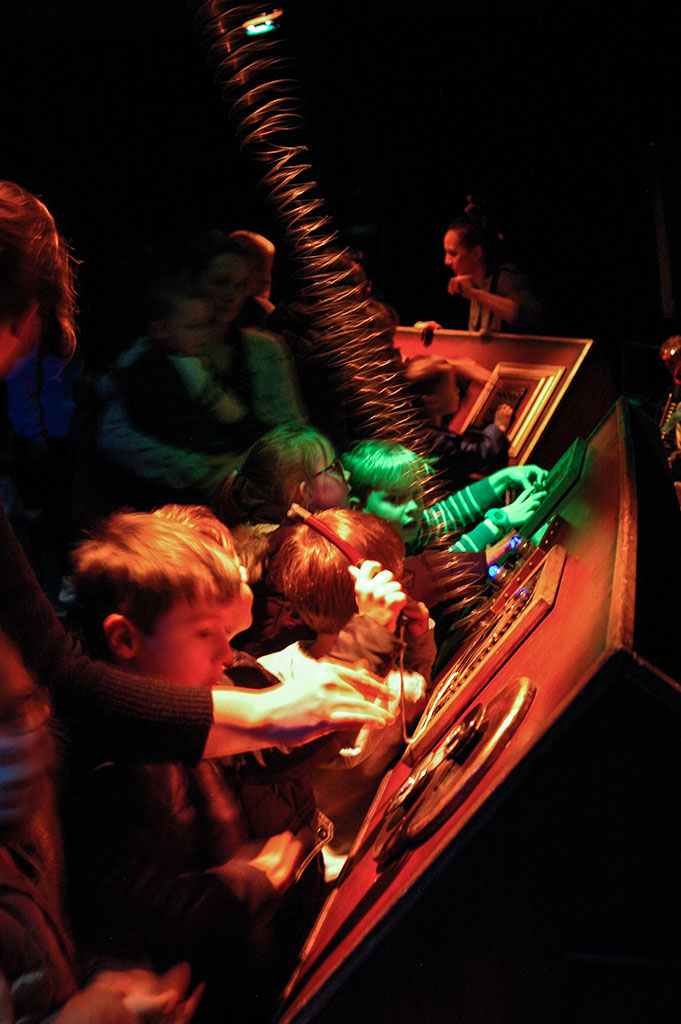 Testimonials
"Noisy Toys worked with FabLab to build a sound installation for the Maker Faire- this was very popular and had The Noisy Toys quickly become one of the most magnetic part of the festival, the instalation was interacted by hundreds of families and children weekend. Noisy Toys is an amazing way both to entertain and to draw peoples attention to reusing and upcycling"
– Vladimir Kuznetsov, Maker Faire Moscow lead producer, founder and director of fab lab Moscow
"The Acousatron was a fantastic addition to our Half term activities and kept children and adults of all ages engaged and entertained in what was one of our busiest weeks of the year. The Noisy Toys team worked tirelessly for 9 solid days and their enthusiasm and energy never wavered – I don't know how they do it! At Eureka! we're always looking for interesting and playful ways to engage children with STEM and the activities Noisy Toys provide certainly tick that box. It was a delight to see children of different ages and abilities interact with The Acousatron and for them to be learning whilst having fun which is what Eureka! is all about."
– Jenny Parker, Play & Learning Manager, Eureka! National Children's Museum, Halifax

"Noisy Toys was one of the most popular elements in our large circle of artists at Camp Bestival. We were delighted by their engagement with the public of all ages and they all worked fantastically hard all weekend. The experimenting with sounds and noises was mesmerising to the young people and was stretching their minds with technical invention. If any art form is designed to get young people thinking outside of the box then this one will."
-Deborah Curtis, House of Fairy Tales
"Steve and the Noisy Toys crew have been a very popular and lively feature of the kids area at Latitude for the last two years, and attract a constant stream of children and adults into their tent, both to investigate the 'toys' inside, and to let rip with the home-made instruments outside. The team are dressed as mad scientists who pretend to blow up kids leaving behind only a pair of smoking wellies- great fun! They always deliver a high quality area."
– Sharon Rueben, Head of Artist & Guest Liaison, Latitude Festival
We have hundreds of comments left in our books from festivals, this is a very small sample:
Comments left in our book at Camp Bestival:
'What a fantastic, energetic and entertaining adventure for children and adults alike!'
'Thoroughly entertaining! My daughter didn't want to leave. So much fun. Thanks!'
'Hello. I love your electrics it's totally amazing. You're GREAT inventors.'
'What a team- a great gathering of minds!'
'Great fun, our boy who suffers from Aspergers loved it.'
'Just fab, so glad there's creative stuff that engages boys as well as girls!'
'EASILY THE BEST PART OF THE FESTIVAL! '
'Great fun, creative, intelligent and inspirational'- Seline
'Ben (7) absolutely loves noisy toys. He keeps coming back for more and wants to take the whole lot home. Well done and Thankyou.'- Ruthie X