Noisy Toys workshops perfectly combine creative and scientific content with an emphasis on sustainability. Practical 'Making' activites, fun participatory exeriments and demonstrations to aid the understanding of concepts. Creative thinking will be essential, and we will improve our technical skills and de-mystify abstract concepts to achieve our goal of Making Noise! Standard workshops are available for KS2 & KS3, with bespoke workshops available for older groups.
This page gives details about the standard Noisy Toys workshops and the 'Bass in your Face' assembly show. Other specialist workshops are listed at the bottom of the page. 'Scavengers' covers some of the same content but with more emphasis on Making (& Unmaking). It is suitable as a drop-in activity for events or for longer school projects. More information on Scavengers can be found
HERE.
What to expect
These workshops are a culmination of ten years of Noisy Toys workshops in schools and at STEM events. They are offered either as 'drop-in' (usually for events) or 'structured', for a classroom setting with clearly structured targets and outcomes.
The basic idea is project-based; we make noisy things out of electronic junk, taken from old computers and other household items. We use simple found objects such as speakers and fans to learn about electromagnetism, to produce interesting sounds and as freely available resources to be upcycled for our own inventions. There is always a fascination when we connect our small speaker to a battery and see the cone jump- why does it do that? Why does it go in the other direction when we reverse the polarity? Then we can add components and connections to build up the complexity of the sounds we produce; it's easy to do and we can quickly produce some great results.
All standard workshops are led Stephen Summers who is a qualified teacher with over ten years experience teaching, leading workshops and performing stage shows as a Science Communicator at STEM events all over the country. Many schools opt for the 'Bass in your Face' assembly show to start the day at no extra cost. Alternatively, an extra workshop can be run in it's place. Schools often use our visit to start a topic on sound or electricity. Below is a description of typical workshops, but we often adapt the content to suit specific topics, so please get in touch to discuss how we can suit your requirements best.
Main Educational Themes
Sound and vibration: sound waves, longitudinal & latitudinal waves, frequency and amplitude, resonance, materials
Circuitry: components, resistance & conductivity, current flow, safety
Electromagnetism: electromagnets used in loudspeakers, electromotors used in fans, using circuits to alter magnetic fields in order to move physical objects
Design & Technology: Making, designing, adapting, properties of materials, practical applications of electricity
Sustainability: Planned obsolescence, disposability, waste, recycling and upcycling
Music: Found sound, building, evaluating and developing instruments, using music technology, working in groups to improve our music

Workshops in the Noise Dome at the Edinburgh Science Festival 2015
Bass in your Face
Assembly Show
This stage show has been featured on a theatre stage at the Big Bang Fair (the UK's largest STEM event) in 2016, as well as at Maker Faire UK, and many other STEM events, national museums, Primary and Secondary schools across the country. The show is performed by Stephen Summers who uses powerful amplified bass vibrations and a hacked hard drive to make volcanic clouds of flour explode into the air, to scatter lentils for several metres, to animate dancing Goop monsters (cornflour/non-Newtonian fluids/Ooblek) and of course to shake the room with lovely low bass (sound levels are kept well within safe limits). The show focuses on sound waves, vibrations and the use of electromagnetism in the design and working of loudspeakers. We also cover the full audible frequency range (bad news there, adults!), recreate the original Start Wars laser blaster sound, find out how to cheaply and easily experiment with sound using Piezo contact microphones and how to use the same technology for musical applications with an understanding of the science of sound.
Key Stage 2 Workshops
60 minutes recommended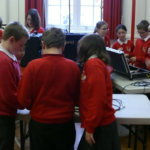 In this workshop we start with a Nose Test, using our bodies as a giant circuit, taking it in turns to be the switch and producing squeaky-nosed results. This helps our understanding of circuitry and basic components, as well as demonstrating conductivity and resistance of other objects that we test, with some unexpected results. It's funny too and breaks the ice very effectively. Then we make small loudspeakers squawk and sing like robotic chickens when we connect them to a battery, and feel some powerful low frequency vibrations through our fingertips. With lots of participatory experiments, multi-sensory demonstrations and some Making, we will have a lot of fun, make a lot of noise, build some noisy contraptions out of circuitry and found objects, discover new things and see some old things in new ways. Primary school pupils can understand the basics of electromagnetism when they get to experience it in such a tangible way. "The children were fascinated. It is science they will all remember because they enjoyed it so much." -Liz Clover, Head teacher, Park Road Primary School
Key Stage 3 Workshops
90 minutes recommended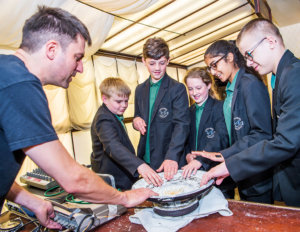 The main Making activity is constructing several different Noise Engines out of upcycled electro-scrap taken from old computers. Working in groups we open the boxes and take it in turns to make the connections, producing a surprising range of weird sounds from very easily accessible materials. We can use Piezo contact microphones to expose hidden vibrations and sounds in found objects. We will need to explore some aspects of electromagnetism to help us understand what is happening, and allow us to design and make our own inventions. We will also need to understand vibrations so that we can use acoustic objects effectively. The working of loudspeakers is a perfect example of an everyday application of theory, design and manufacturing. Even though we use speakers every day, a lot of adults still have no idea how they produce sound. We discover how signals are transferred between fluctuating voltages to changes in the magnetic field to physical movements to sound waves in the air, and back again. This process can be understood and made relevant when applied to music amplification. "It was really engaging and lots of fun as well as insightful about the science of sound. Stephen is a natural entertainer and teacher and it was one of the favourite workshops of the day by far." – Heather Beames, Deputy Head, Gildredge House
Other Workshops
Workshops for Key Stage 4 and older groups are planned for the specific requirements needed. For example in the past we have delivered sessions aimed at helping Music A-level students with composition techniques using music technology. Also on a GCSE Focus on Physics day all about circuits. We have also run university level workshops focussed on specific Making projects.
The Unmaking workshop; we dismantle old electronics to obtain our resources. It's a lot of fun, we get better at using tools and we learn how things are made, by breaking them (carefully)!
Music is Maths; lots of rhythmic number games using our bodies and voices. No resources needed.
Hack the Games; using home made retro games consoles built around reconditioned laptops running on all open sources software, we learn various aspects of coding to improve and adapt the games (led by Mick Chesterman).
Music Technology; creating our own songs and music using loopers and outboard effects unit (led by Chantelle Scott)
Special Needs
We are trained and experienced at providing for many Special groups. The multi-sensory and interactive elements of our equipment makes it very well suited to many special needs groups. We have previously taken workshops to mixed, ASD, PMLD and EBD schools and centres.
All workshops can be adapted for your group's needs, or a bespoke workshop can be planned to suit your particular requirements. Please get in touch to discuss how we can best provide for your group.
Inset and PGCE training
A lot of the activities and technology that we have spent years developing is accessible to interested teachers, students and educators. We are keen to share good practice, so please get in touch of you are interested in a day's training in your department or PGCE college, or just for some advice if you want to try similar activites yourself.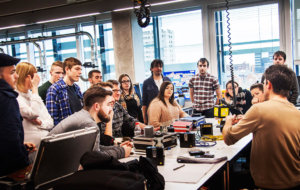 Steve working with Music and Computing PGCE students at the Manchester Metropolitan University, as part of the EdLab project
www.edlab.org.uk
Requirements
For all workshops we need the following:
Access to the school at least 2 hours before the start of the sessions for set-up.
Use of a large space such as a hall or double classroom (standard classrooms may be acceptable for smaller groups) with mains power. Ground floor prefered, otherwise us of a lift is essential.
A single space to work all day will reduce the set-up times between workshops
Freedom to use amplified sound without disturbing other school activities (no exams next door please!)
Access to the nearest entrance to the workshop space for loading in and out. If access directly into (or very close to) the space cannot be arranged set-up time may be reduced which may reduce workshop time.
parking space for a van