Remember that a show at the start of the day costs no extra and can be for as large an audience as you can fit in. The Bass in your Face show is visual, loud, and a perfect introduction to the workshops. Info here.
Scavengers
Our original workshop that we have taken to many schools all over the country for over 12 years.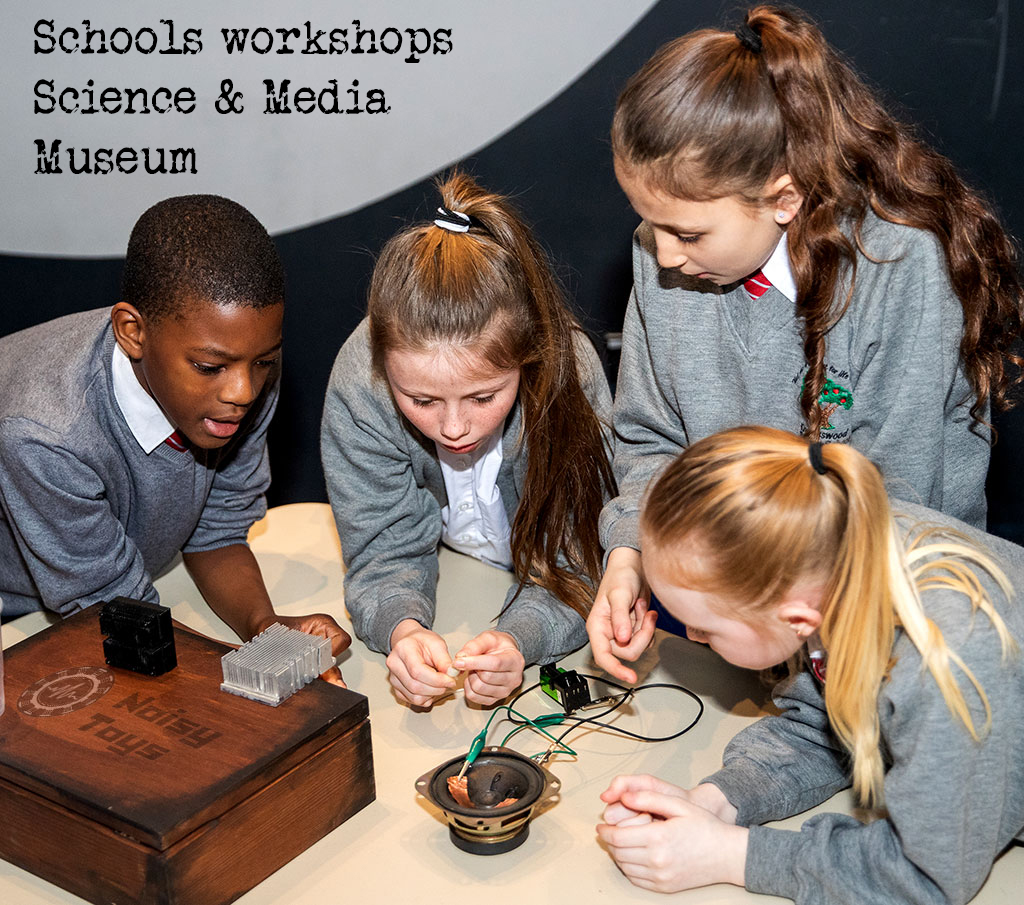 We start by linking together to make a giant circuit with our bodies, and end by experiencing 1000 watts of bass power through our fingers with the Bass Buzz.
In our kit boxes we find… e-waste! But rubbish becomes treasure as we connect it together to make a Robot Chicken and other noisy contraptions.
We learn about circuits, electrical resistance, electromagnetism, sound vibrations and e-waste.
Duration: 60-90 minutes
This is a perfect taster workshop to start or recap a topic. It covers a lot of ground and can be adapted to focus more on: circuits, music, physics, e-waste & sustainability, sound.
Can be followed up with more in-depth complementary workshops (ask for details), but also works as a stand-alone experience.
This workshop covers the science of sound and basic circuitry -applied to everyday technology such as motors, fans and speakers- whilst addressing environmental issues around waste, recycling and disposable electronics. Workshops encourage creative thinking, group work and experimentation and can be focussed more on one particular area if required (sound, circuits, sustainability).
Working in groups we open our boxes and find a load of junk inside; upcycled bits from broken computers that were thrown away. Using 9 volt rechargeable batteries and crocodile leads we connect the components to build weird noise machines like the Robotic Chicken, and then we get to play with them and experiment with the sounds we produce.
---
Buggy Battles
Making and coding Buggies to complete an obstacle course and then battle each other. Although coding is a key element for strategy, there is also plenty of non-screen activity. Code is Scratch-based and very accessible even with no prior experience. Buggies use the fantastic Crumble controller from Redfern Electronics.
Find out more about Buggy Battles here.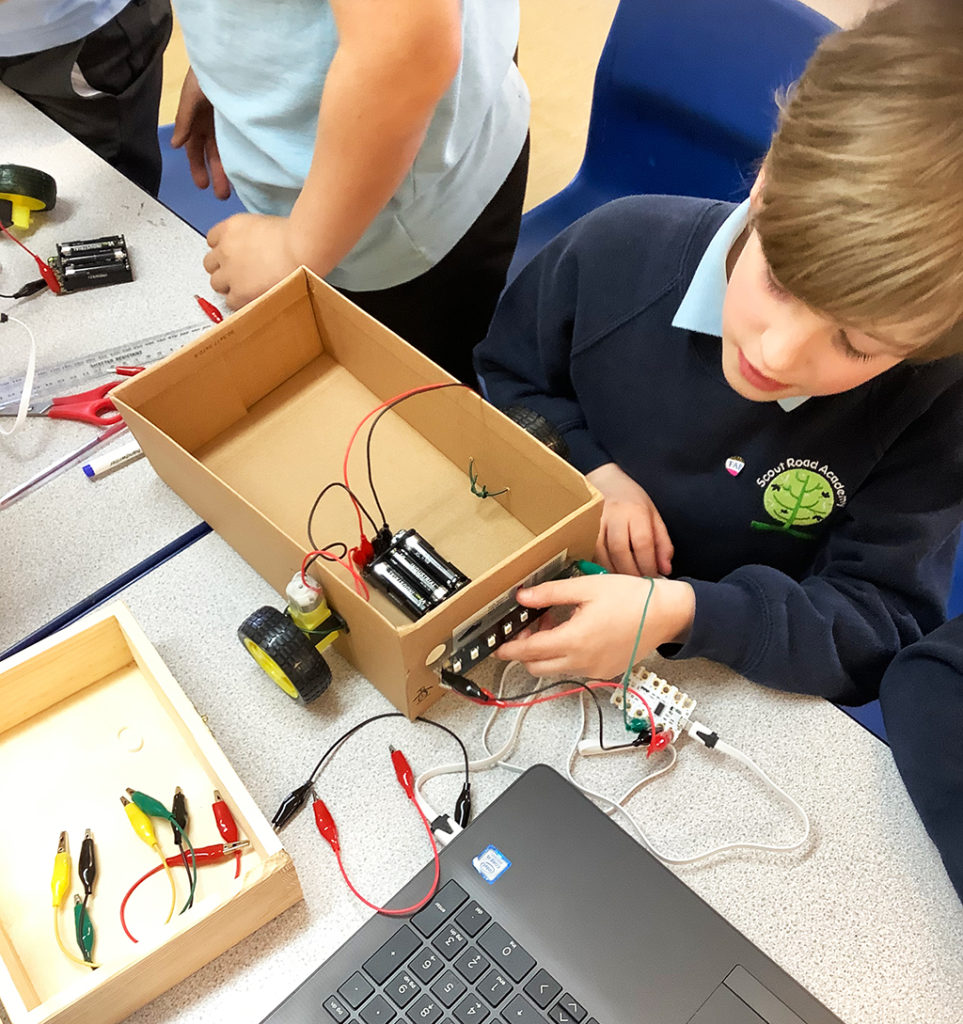 Available as either a 4 hour activity (in 1 day or over several) or as a 1 hour workshop.
4 hour: designing, building, electronics, coding, strategy, advanced coding, obstacle course and battles.
1 hour: pre-made Buggies, coding, strategy, obstacle course and battles
---
Junk Jam
Using first just our bodies and then a selection of ready-made Noisy Toys we experiment with musical ensemble skills, conducting and improvisation to create meaningful musical structures that use soundscape, beats, grooves, melodies and harmony (plus a bit of noise!). Musicians are welcome to bring their instruments. Available from September 2022.
improvisation games
ensemble skills
composition and performance
amplified everyday objects (Noisy Toys)
acoustic instruments can be included
fun and inclusive approach to group music-making
---
Year 4 Sound and Circuits Sc4/4
Designed specifically to help year 4 with National Curriculum for Science Sc4/4.1 (Sound) & Sc4/4.2 (Electricity). Ideal as a fun introduction to the topics, or to reinforce lessons already undertaken. A day of workshops will help to explain these tricky subjects and will also give teachers plenty of confidence and ideas for continued activities around Sc4/4.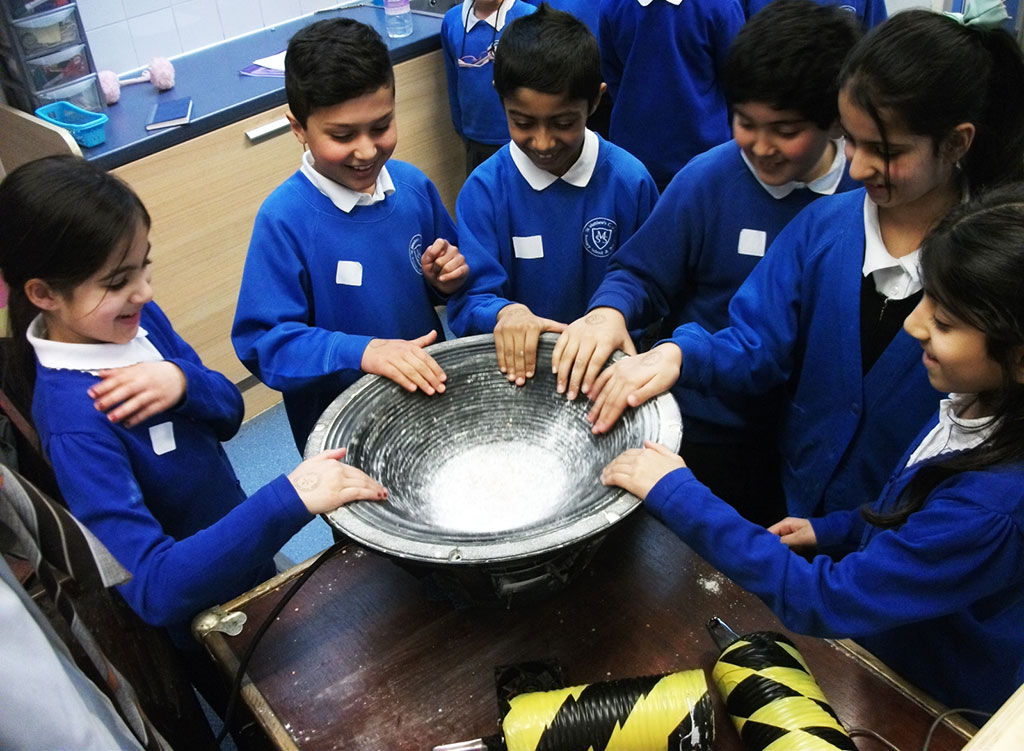 ---
Wonky Robots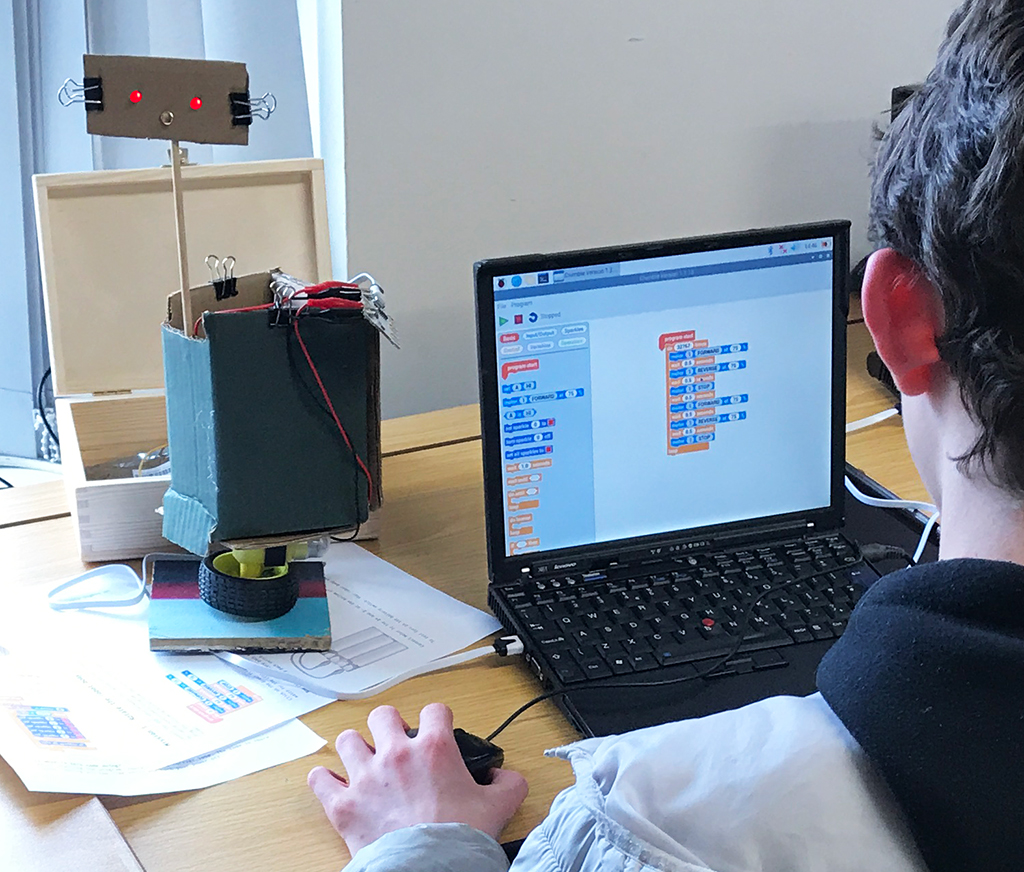 Build a wonky shonky dancing disco robot
Based on the Crumble controller with Scratch coding.
Sketchy Circuits will be ready for bookings from September 2022.
| | | | |
| --- | --- | --- | --- |
| Scavengers | | Circuits, sound, vibrations, how speakers work, conductivity | years 4-6 |
| Buggy Battles | | Coding, sensors, A.I. (+making, electronics, design & engineering for the longer project) | 5-6 |
| Junk Jam | | Music, instrument building, improvisation, ensemble skills, soundscape conducting, composition & performance | 4-6 |
| Sonic Scavengers | | Instrument building (electronic & acoustic), field recording, use of different microphones, sound editing, composition, looping and effects, performance | 6 |
| Wonky Robots | | Coding, sensors, e-waste, environment, campaigning, A.I. | 6 |
| Year 4 Sound & Circuits | | An adapted version of 'Scavengers' specifically aimed to meet the National Curriculum requirements for Sc4/4.1 & Sc4/4.2 for year 4 | 4 |
Scroll down for more information on these workshops.