Acousatron at Moscow Maker Faire 2018" rel="noopener" target="_blank">Acousatron promo video
A complex, ever-changing soundscape that you can control. Amplified acoutic sounds from everyday objects and salvaged instruments form the core of this monstrous mechanical-electromagnetic-acoustic noise-engine.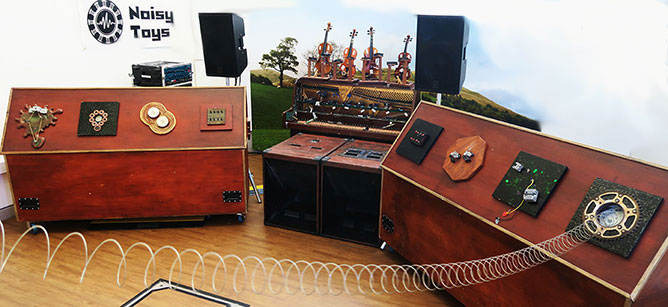 Rubber band basslines, slinky laser-blasts, twanging springs, plinking heat sincs and of course booming bass hard drives. The heart of a piano and four violins; played by you with motorised mechanical agitators upcycled from dead computers. This is raw analogue circuitry, electromotors, mechanical systems and found acoustic objects built into a mega-contraption in Heath Robinson style. Large consoles house the controllers that allow groups of people to explore the sonic potential of each instrument and jam with their friends. What comes out is beautiful electroacoustic music- or a horrendous cacophany, depending on your personal taste. Fascination guaranteed.
The Acousatron is ideal for large events where lots of people want to have a go at something. The consoles that allow people to interact with the instruments house eight specialist controllers, each of which has different ways of controlling the sounds. The amplified sounds are large, complex and constantly changing.
The devastating sounds of the mighty Acousatron have been mixed into an electroacoustic composition by Stephen Summers and can be heard and downloaded HERE. The heart of the installation can also be played as a live electroacoustic performance. You can hear a live recording of the performance at MANTIS (Manchester Theatre in Sound) festival fom November 2017 HERE.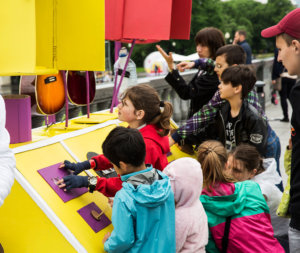 The Acousatron was featured at Polytech Festival in Gorky Park, Moscow in May 2018 in collaboration with Cardboardia. For this event the instruments were fitted into a custom-made installation, the 'noise kitchen'.

Acousatron at Moscow Maker Faire 2018
In 2017 The Acousatron has toured the Big Bang Fair (NEC, Birmingham), UK Maker Faire (Centre for Life, Newcastle), the National Media Museum (Bradford) and Traction Crewe. Look out for more dates of public events where you can play the incredible (and quite sinister sounding) Acoustatron in 2018.