Tinkering Workshop
Making & Tinkering
Circuits & sound
Electromagnetism
Sustainability
—————
Hands-on activities
Experimentation
Creative thinking
Group work
Information
Structured or drop-in?
This page focuses on structured workshops suitable for schools, events or other settings that can arrange a fixed number of participants for a fixed length of time. Drop-in versions of the same activities can be found here.
Who is it for?
We usually offer the Tinkering Workshop for Key Stage 2 and Key Stage 3 (upper Primary and lower Secondary school-age), although we have also delivered it for younger and older groups including students, trainee teachers and other adults groups.
What to expect
Structure of the day
Most schools opt for an introductory show, followed by three workshops, or alternatively just four workshops. The show does not cost any extra if it is part of a full day of workshops. Some schools like to have the whole school (or as many as can fit in) enjoy the show, even if just one year group is taking the workshops. More information about shows is available here.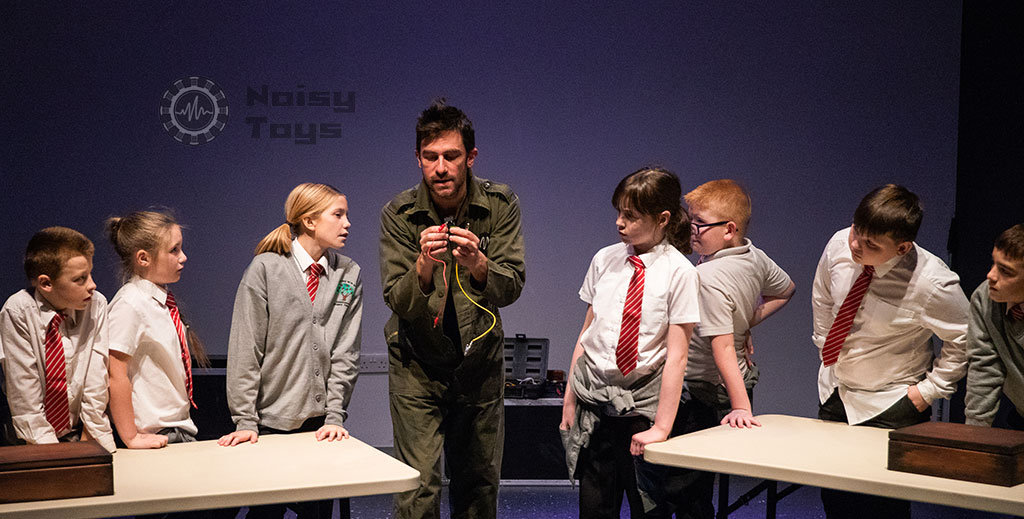 Making activity
During the workshops we will work in groups to build various small robotic noise machines out of upcycled electronic junk. These help us to understand some of the electromagnetic processes involved in everday items such as speakers and motors, and also the physics of sound waves, vibrations and acoustics.
Participatory experiments
We always start with a Nose Test. Not just becasue it's a tradition and is funny, but it is a perfect ice breaker for the group and helps understand the basics of circuitry in a very involved way, as the whole group becomes a giant circuit together.
We will also take part in the Bass Buzz and maybe a Goop Test (ooblek) as well.
Main Educational Themes
We cover a lot of subjects in this workshop, and if you would prefer for us to focus on one area in particular then we can go much deeper. 90 minute workshops and groups of no more than 16 are definitely recommended so that we can cover as much ground as possible.
Sound and vibration: sound waves, longitudinal & latitudinal waves, frequency and amplitude, resonance, materials
Circuitry: components, resistance & conductivity, current flow, safety
Electromagnetism: electromagnets used in loudspeakers, electromotors used in fans, using circuits to alter magnetic fields in order to move physical objects
Design & Technology: Making, designing, adapting, properties of materials, practical applications of electricity
Sustainability: Planned obsolescence, disposability, waste, recycling and upcycling
Music: Found sound, building, evaluating and developing instruments, using music technology, working in groups to improve our music

Workshops in the Noise Dome at the Edinburgh Science Festival 2015
Other Workshops
Workshops for Key Stage 4 and older groups are planned for the specific requirements needed. For example in the past we have delivered sessions aimed at helping Music A-level students with composition techniques using music technology. Also on a GCSE Focus on Physics day all about circuits. We have also run university level workshops focussed on specific Making projects.
The Unmaking workshop; we dismantle old electronics to obtain our resources. It's a lot of fun, we get better at using tools and we learn how things are made, by breaking them (carefully)!
Music is Maths; lots of rhythmic number games using our bodies and voices. No resources needed.
Hack the Games; using home made retro games consoles built around reconditioned laptops running on all open sources software, we learn various aspects of coding to improve and adapt the games (led by Mick Chesterman).
Music Technology; creating our own songs and music using loopers and outboard effects unit (led by Chantelle Scott)
Special Needs
We are trained and experienced at providing for many Special groups. The multi-sensory and interactive elements of our equipment makes it very well suited to many special needs groups. We have previously taken workshops to mixed, ASD, PMLD and EBD schools and centres.
All workshops can be adapted for your group's needs, or a bespoke workshop can be planned to suit your particular requirements. Please get in touch to discuss how we can best provide for your group.
Inset and PGCE training
A lot of the activities and technology that we have spent years developing is accessible to interested teachers, students and educators. We are keen to share good practice, so please get in touch of you are interested in a day's training in your department or PGCE college, or just for some advice if you want to try similar activites yourself.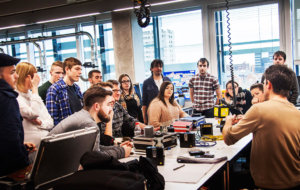 Steve working with Music and Computing PGCE students at the Manchester Metropolitan University, as part of the EdLab project