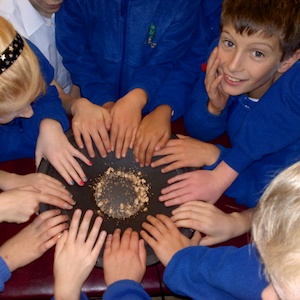 We offer structured or drop-in workshops and activities for Key Stage 2 (7 years old) up to adult groups, as well as all kinds of Special groups. All workshops focus on 'learning by doing' and aim to stimulate creative thinking in all subject areas covered. The workshops focus on Physics, Music, Electronics, Making/Design technology and Sustainability. We often combine aspects of different workshops, so what is listed here is a guideline. All workshops are delivered by Steve Summers (QTS) unless otherwise stated.
Several of these workshops are combined in the new 'scAvengers' workshops which focus on upcycling, Making on a budget, open source and hardware hacking. More details on scAvengers here soon.
Structured Workshops
With a group of participants for a fixed amount of time, from one hour to a full day. Suitable for Primary, Secondary or Special schools, in other educational settings or at events where a space and booking system can be provided. Workshops are offered from ages 6+ to adult, including mixed age, family groups, and special needs.
Drop-in workshops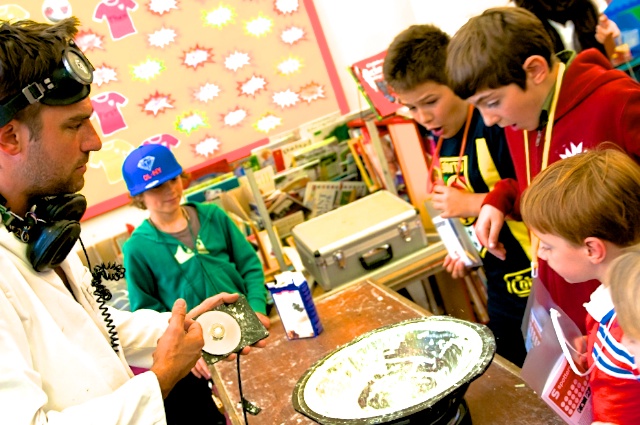 Visitors can come and go at any point, take part in on-going activities and receive help from facilitators. Suitable for public events with an emphasis on learning; Maker Faires, festivals, school fairs.
Noise Boxes workshop
Building Noise Machines from acoustic junk and basic circuitry in groups.
This workshop is used within the Robot Orchestra project as an introduction to making mechanical musical instruments. The Robot Boxes are full of junk that we can build into mini electroacoustic machines to make sounds. We will have to know how circuits work to do it, and the Nose Test will help us with that. We can also find out about sound waves and vibrations in the Bass Buzz Test and the Goop Test.
We will create some amazing sounds with our instruments, and will use them to make original music and soundscapes in groups. The components that we will use have been scavenged for free from old computers. Up-cycling of junk is a strong theme, and the obsolescence of consumer electronics is addressed.

Science: circuits, resistance & conductivity, electromagnetism, waves, vibrations
Technology: designing instruments, using tools, dismantling
Music: Found Sound, performing in groups, jamming
Sustainability: planned obsolescence, consumer products' disposability
Un-Making
Deconstructing discarded computers and other e-waste, and salvaging resourses to make new instruments.
Un-Making is often combined with the Noisy Robots workshop so that participants get the full experience of sourcing their own materials, or it can be run on it's own with more of an in-depth look at the sustainability issues.Un-Making is also fantastic as a drop-in activity for open plan events.
Technology; designing instruments, using tools, dismantling
Music; Found Sound, performing in groups, jamming
Sustainability; waste, true costs, planned obsolescence, consumer products' disposability
Using the art of 'Un-Making' the students have loads of fun deconstructing old computers with screwdrivers, salvaging the treasures that lurk inside and building new instruments with them. We will learn about the true cost of consumer electronics, and the wider long-term consequences. Many technical and creative skills also come into the activity, with lots of use of tools and instrument design.
You can be a scavenger too with a screwdriver and an old computer- what treasures are inside and what do they sound like?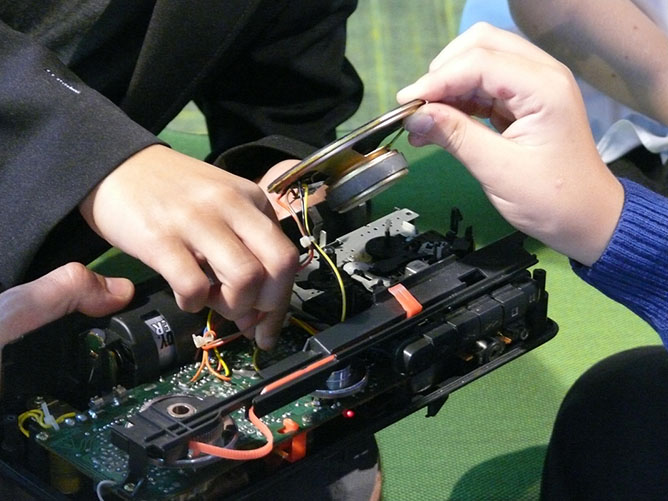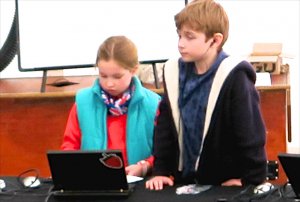 Strawberry Tarts
Open Source coding and electronic music composition.
Open source coding uses fully reconditioned, working computers salvaged and restored to digital functionality to enable children and young people to compose original pieces of electronic music. These computers run on Linux and only use freely available Open Source music software such as Sonic Pi (developed for use with the Raspberry Pi) and Audacity.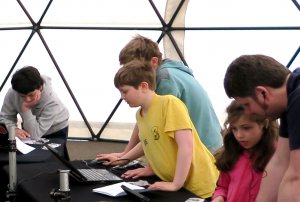 Participants can produce beats, make melodies, learn about the maths in music, and get an introduction to coding with fun and rewarding applications, or develop existing interest or experience of coding.
This workshop is delivered by Mick Chesterman (PGCE) or Steve Summers.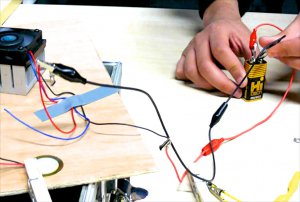 Noisy Toys
Experimenting with unique hand-made instruments.
In this workshop young people will have use of the full range of the many exciting and bizarre creations from the Noisy Toys Research & Development lab.
We will work together to create original pieces the like of which may have never been heard before, using many musical skills as well as music technology including mixing, effects and looping.
Music will be more of a focus in this workshop, and participants are encouraged to bring along their own instruments if they have them to accompany the masterpiece composed on the day. However, no prior musical training is needed.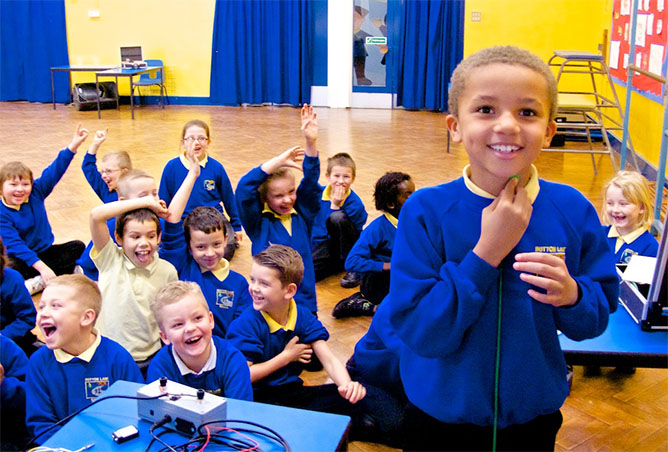 Music is Maths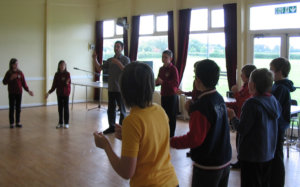 Playing around with number patterns in rhythm and harmony. Using only our bodies and our voices we will play with many musical number games: Indian Taalas, body percussion, African cross-rhythms, and other games designed to get us feeling the relationships between numbers. We may also delve into the mathematical mysteries of harmony, the properties of waves and their associated musical effects, exploring how combinations of pitches can be discordant or harmonious.
Music is the pleasure the human mind experiences from counting without being aware that it is counting. Music is nothing but unconscious arithmetic."
Gottfried Leibniz
Special Needs
We are trained and experienced at providing for many Special groups. The multi-sensory and interactive elements of our equipment makes it very well suited to many special needs groups. We have previously taken workshops to mixed, Autistic Spectrum, PMLD and EBD schools and centres.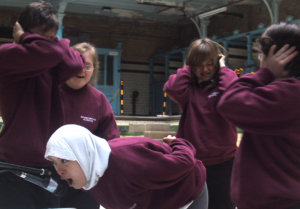 All of the above workshops can be adapted for your group's needs, or a bespoke workshop can be planned to suit your particular requirements. Please get in touch to discuss how we can best provise for your group.
Inset and PGCE training
A lot of the activities and technology that we have spent years developing is accessible to interested teachers, students and educators. We are keen to share good practice, so please get in touch of you are interested in a day's training in your department or PGCE college, or just for some advice if you want to try similar activites yourself.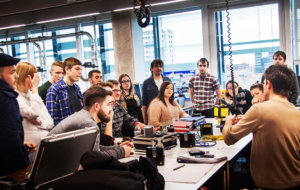 Steve working with Music and Computing PGCE students at the Manchester Metropolitan University, as part of the EdLab project
www.edlab.org.uk
Requirements
For all workshops we need the following:
Access to the school at least 2 hours before the start of the sessions for set-up.
Use of a large space such as a hall or double classroom (standard classrooms may be acceptable for smaller groups) with mains power.
Freedom to use amplified sound without disturbing other school activities (no exams next door please!)
Access to the nearest entrance to the workshop space for loading in and out
parking space for a van
Download 'Noisy Toys workshops 2015/2016' information PDF:
workshops 2017