2 more sessions this term. Monday group: 20 & 27 March, Wednesday group: 22 & 29 March 2023, 4-5pm
The long awaited return of the Unmaking club! Thanks to everyone who came to the taster in half term. There will be 2 weeks of Unmaking before the Easter holidays and then regular weekly clubs in the summer term, and most likely some one-off themed workshops during the holidays.
Please email me on steve(at) noisytoys (dot)org or contact here to book or find out more.
By dismantling electronic junk we learn how to use tools, figure out some of how the things worked, and have fun (until you get to that one screw that just won't come out…).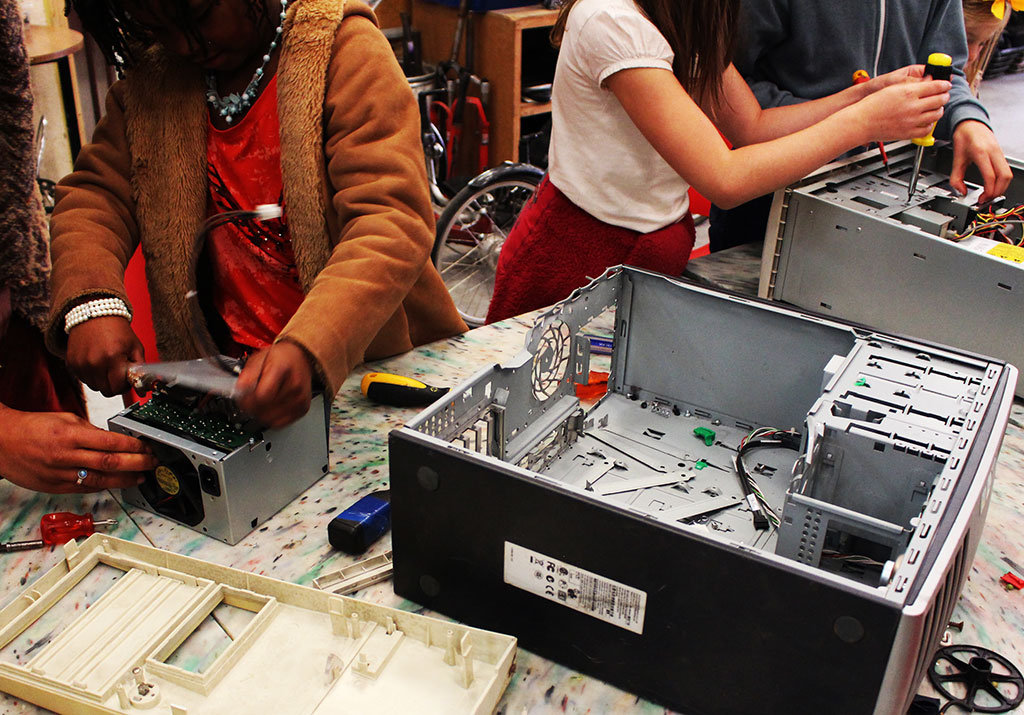 £5 contribution or whatever you can afford

@ Big Tin Shed, Hebden Bridge, HX7 8LN

limited places (6 max), book first

age 8+ish (depending on the individual)
What happens?
Welcome, introduction, session objectives, demonstrations,10 mins
Demonstration and play with upcycled Noisy Toys, 10 mins
Group disection/post-mortem of a larger piece of dead tech + technical skills; use of tools, non-destructive unmaking,10 mins
Unmaking! Safely dismantle some dead tech & play with upcycled Noisy Toys,20 mins
Showback, discussion, planning, issues around e-waste, 10 mins
What's it all about?
Every session starts with a ten minute introduction/participatory demonstration and ends with a group showback/conclusion. During these times we dicuss challenges, plan our projects, gain knowledge about technical electrickery and also increase our awareness of issues around e-waste and how we can make a difference. Why is there are problem? What can we do? The scale of the issue can seem huge but there's a lot of positive action happening too, and we can be a part of it. There's gold in that rubbish! There's also a lot of fun things that we can carefully rescue and re-purpose.
As a group we will disect and conduct a post-mortem on larger/more interesting pieces, identifying components, valuable scrap, potential hazards, upcycling resources, pretty things, recyclable materials and landfill waste.
We will sometimes get to play with some of the Noisy Toys workshop equipment, helping us to learn about circuits. As we learn more, and build up our supply of useful upcycled components, we can start to think about the next phase: Making!
All sessions led by Steve Summers, a qualified teacher, DBS checked.
reverse-engineering
electronics/circuits
problem solving
using hand tools
understanding e-waste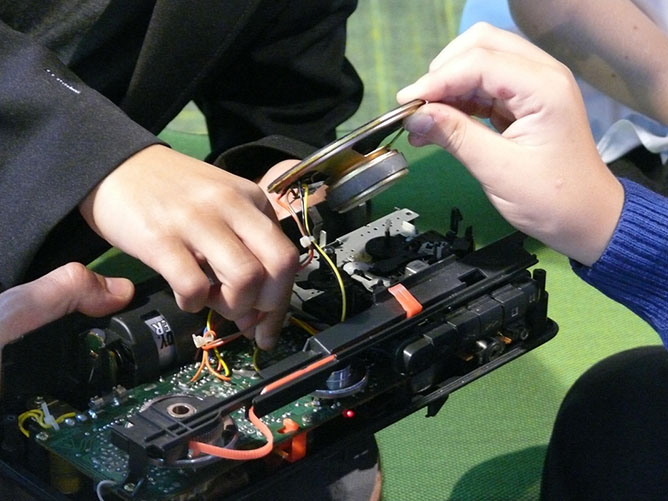 Please be aware of the following: We will be using hand tools which always carries a risk of minor injury. All participants will be 'level 1' to start with and will only use screwdivers, but used incorrectly you can still cause yourself a scratch.
Also: all treasure liberated from junk is the property of Noisy Toys but you may keep anything we don't need and may also bring your own waste to disassemble.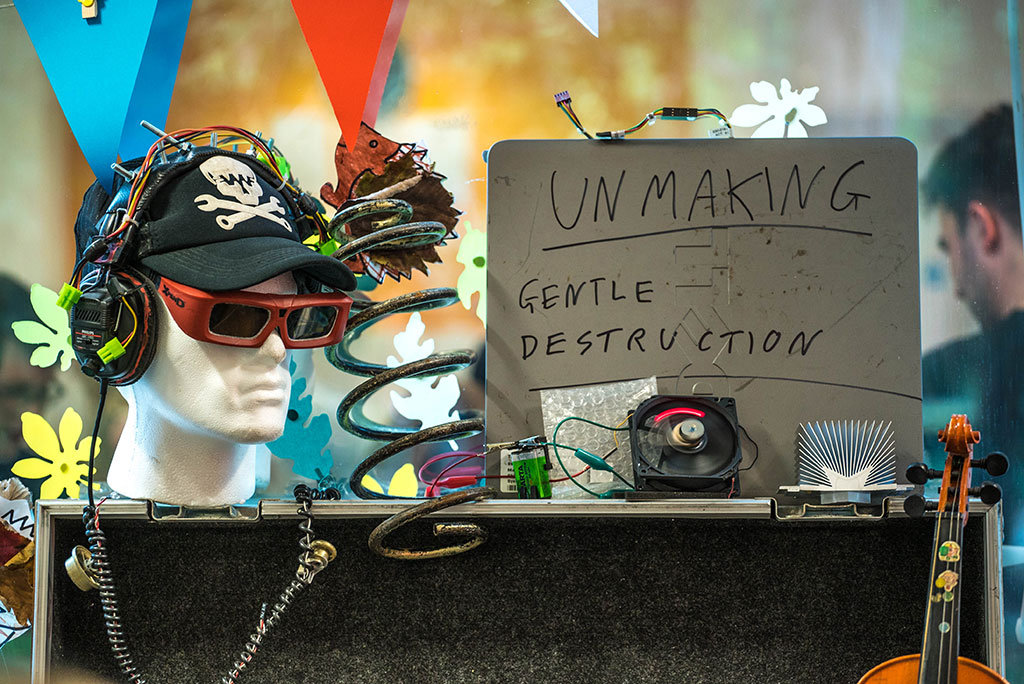 level 1: screwdrivers only

level 2: cutters and leverage

level 3: power tools and hammers

level 4: nuclear fussion and bionic implants
---