See a summary of our previous public events over the last few years
here.
We're going back!
With the version 5 of our amazing Acousatron Noise Contraption.
Details here soon…
10am-5pm Sat & Sun
Scavengers drop-in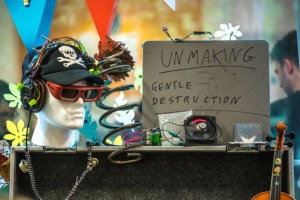 Come and get your Nose Tested and make some amazing robotic music with instruments built from upcycled electronic junk.
Become part of an electrical circuit with your friends, take an old computer apart, make the Robotic Chicken, the Entropic Agitator and some other weird and wonderful noise contraptions built from computer guts. Scavengers make use of what they find and we find a lot of dead computers (why is that?) so let's dip our toes into the mysteries of electromagnetism and acoustics and make some strange noisy things…
Bring old electronics and computer towers but no screens please.
Video of Noisy Toys at Thrift 2017 here.
Drop-in activities and participatory demonstrations.
More information here soon.