See a summary of our previous public events over the last few years here.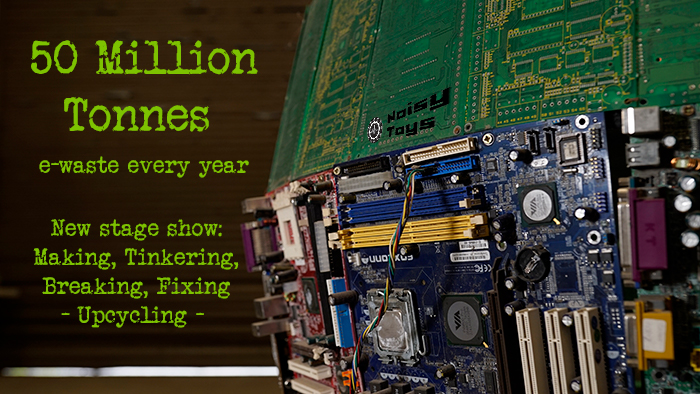 Stage show for families- yes, e-waste can be entertaining! See what amazing noisy things can be made from waste, learn more about dead tech and empower youself to be part of the global solution.
Booking essential from Eureka Science & Discovery
Schools workshops for Recycle week, focused on upcycling and e-waste. Prio booking essential!
Seems like everyone is retreating these days so we thought we'd join the rout in our own way.
This will be a 2 night residential in the North West, most likely in the Autumn, with limited places (around 15) and a provisional early bird cost of £150. Activities will include:
Build a temporary site-specific immersive and interactive sound installation as a group
broadcast live music, soundscape & other audio onto internet radio
workshop: make and keep your own contact mic/electromagnetic mic or hydrophone
use of sensors, sound controllers and portable battery-powered amps
improvisation jam sessions, performances, improv games and systems with any audio input
field recordings from the local area and from the building itself
skill sharing by participants on any aspect of music & sound
More details here soon but contact us early if you are interested.