Noisy Toys & Robot Orchestra
New: Watch our Bass Drive video here (and mind you don't blow your woofers!).
Noisy Toys are partners in Manchester's Recycled Robot Orchestra project, which involves workshops, public performances and lots of home-made musical Robots! With support from the Arts Council England, Steve Summers has designed and built three robotic instruments to be members of the orchestra. In their time off, these new creations have formed their own band 'Jam the Noisy Robots'! They sound great but they don't yet understand music so they need our help. Using switches and levers on a large console, we can control them and get them to generate some very strange music. Use the menu on the right to find out more about our Robotic instruments.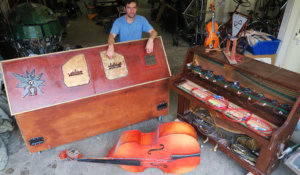 Mechacoustic Machines
Original Electroacoustic Instruments, built as part of the Robot Orchestra project.

Discarnate Heart
An Interactive feature based around the mighty sound of a piano's heart.
This instrument allows people to experiment with the awesome sound of an acoustic piano's heart, processed through a versatile filter bank and played via an interactive Audio Console. The main sound sounrce is from eight Auto-Strummers positioned across the undampened strings; these can be activated from a switch board on the console. There is also a pull chord which strikes the sound board directly, producing a loud thump that agitates all of the strings together. The rate of the filter bank sweeps can also be affected from the consoles. There are now plans to fit a whammy bar…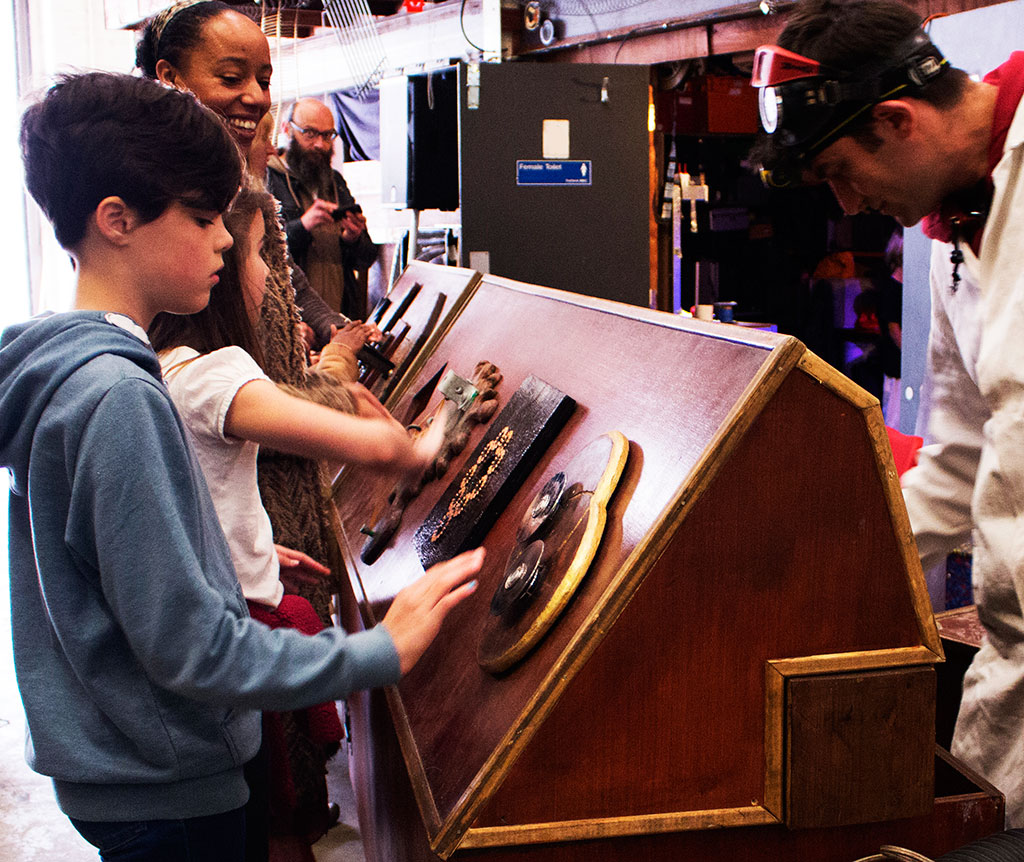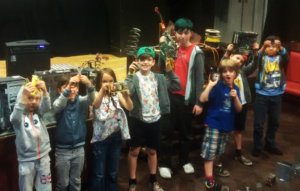 Much of the preparation and initial build work was completed with help from young people during workshops at Fallibroom Academy and Band on the Wall with Brighter Sound, and also at drop-in workshops at Jimmy's Farm, trAction Crewe and the Big Tin Shed. Listen to a short recording of the Discarnate Heart here. More music from this beast to come soon!
---
Vile Din
Mechanically opperated violins played with Auto-Strummers up-cycled from old computer fans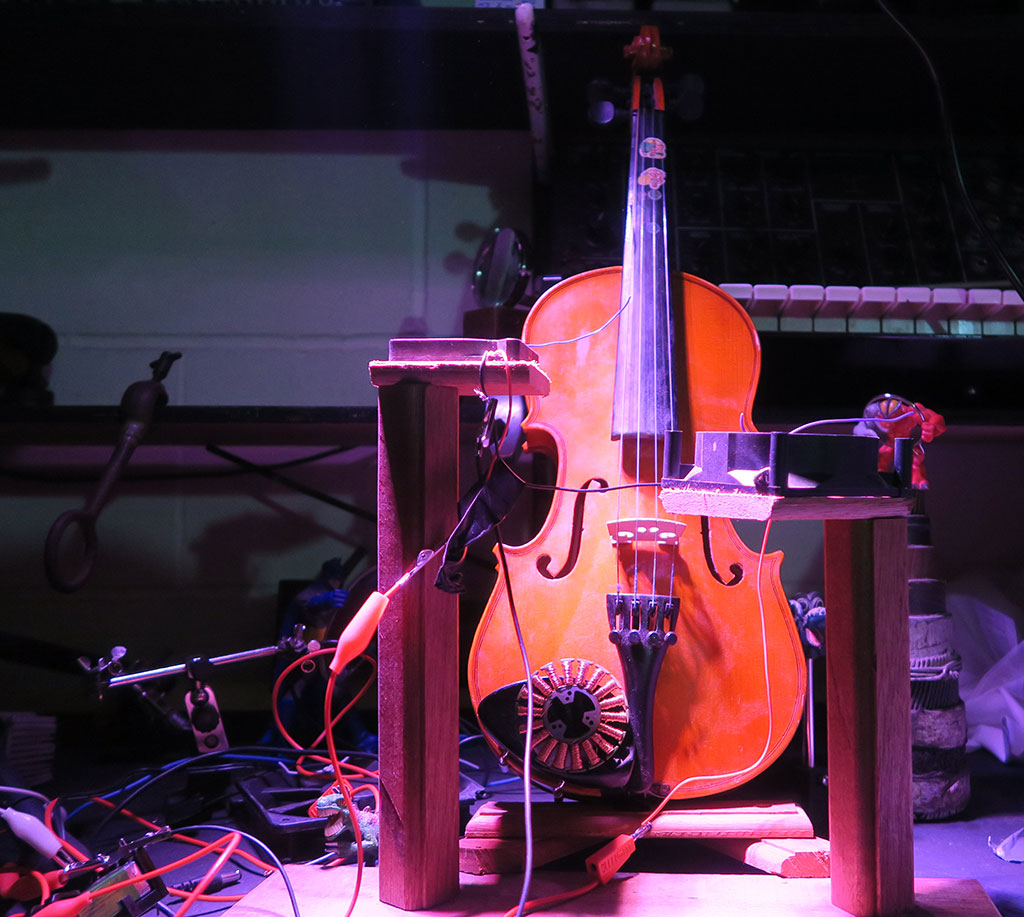 The sound is more like a Balalaika than a traditional violin sound due to the strings being struck by the flail on the fan; these Auto-Strummers are also used to play the Discarnate Heart.
Watch a short video of the prototype Mechanised Violin here, and of the first Arduino-controlled Mechanised String Section, built at Manchester's Museum of Science and Industry during MakeFest 2016 here.
Listen to a 1 minute live recording of the Mecha Violin prototype being manually tilted at MakeFest (Aug16) here
---
Bass Drive
A long-awaited development the most infamous Noisy Toys sound- the Booming Bass Hard Drives
Hard Bass Drive – electromagnetic generation of (nearly pure) sine waves
A computer hard drive, hardware-hacked to produce powerful low frequencies and (for the first time) motor controlled allowing for specific pitches rather than frequency sweeps; the much-needed bass line for the orchestra.

Video for the bass drive coming very soon.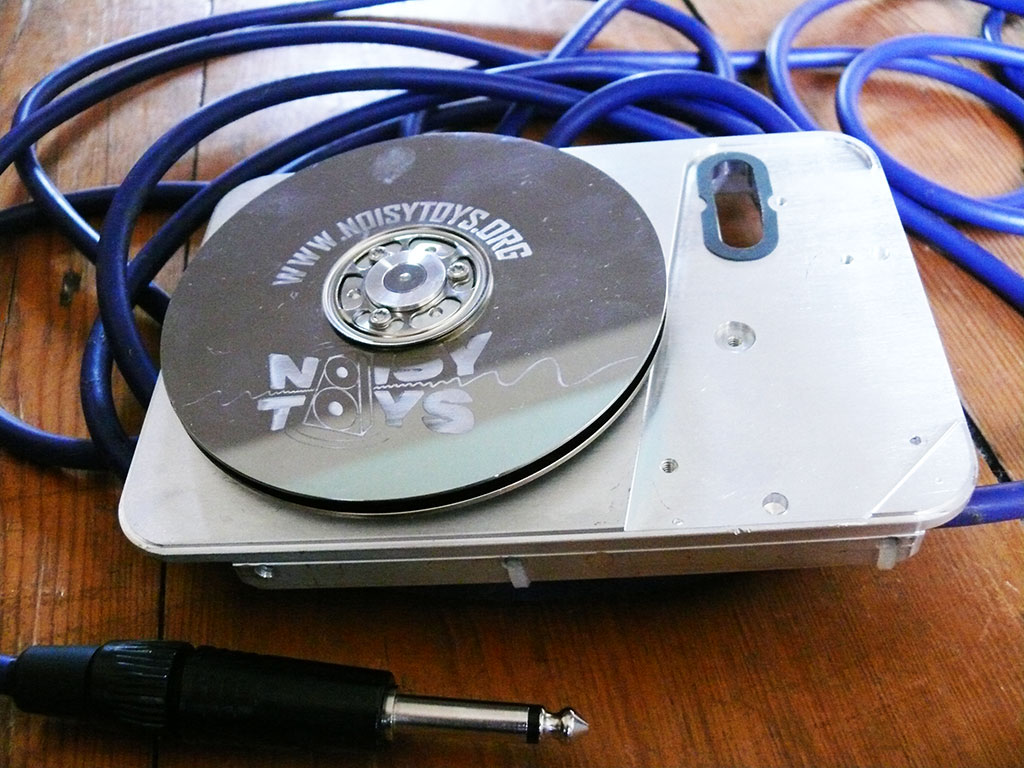 ---
Resources & Activites
Download this resource worksheet: Teacher's resource there's lots of lesson activities and suggestions in there.
ACTIVITY 1- Listening, imagining, drawing & designing
Listen to the audio mix from We Are the Robots Hack here.
Close your eyes. You have entered a robotic world, with a huge variety of different robots. As each new voice emerges, picture what the robot that made it looks like. Is it large and sturdy battle-tron or a microbot drone flitting around your head? Is it friendly or threatening? Does it have an obvious function? Robots in our mind's eye can be any shape, size, colour, and we don't have to worry about pesky things like 'would it actually work?'- who cares? It's imaginary so go wild!
If you focus your imagination you can get really good ideas of what the robots look like- why not draw them? The you could start to add descriptions or close-up designs of the working parts of your favourite robot. Your imaginary robot can turn into a design for one that could be built. Don't worry about practicalities; that's a separate activity! Some of the best designs for real inventions have come from completely free creative imagining. If you email the pictures to Noisy Toys we can put them on the Robot Orchestra page our website.