Stage shows, ground-level shows, assemblies, interactive walkabout acts, participatory demonstrations.
Bass in your Face, Bass buzz, Goop Test, new shows
STAGE SHOWS
Bass in Your Face at the Big Bang Fair 2016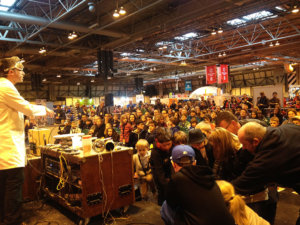 What is this mysterious thing called Bass and why does it make us feel so groovy?
A 45-60 minute stage show with audio-visual elements, interesting props, 4000 watts of bass, a fast pace and lots of audience participation. Everyone can come and try the Bass Buzz at the end.Bass in your Face is suitable for ages 6+ with content targeted at different age groups within the show.
GROUND LEVEL SHOWS
For public spaces or free-flowing events
Excitingly Dangerous Science Demonstrations that you can take part in.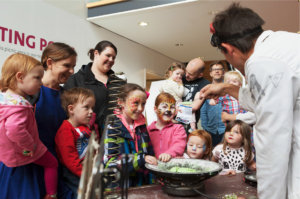 Suitable for public events, school fairs, parties or any event where people come and go and can get involved in some of our noisy and messy activities, or just watch if they prefer. Dare you try the infamous Bass Buzz? Feel 1000 watts of bass power through your fingertips, see clouds of flour shoot into the air, duck from eruptions of lentils (or sometimes mung beans), marvel at water-based Cymatics, re-create a laser-blaster shoot out with an amplified slinky, shriek in utter horror at the bizarre life-forms animated with corn flour and powerful bass vibrations, as the Goop Test brings forth new life-forms that dance and metamorphose at the sound of the BASS….
Our Bass Station (demonstration unit) is static and requires mains power (we have a silent generator if required). Some sweeping up of lentils and flour may be required afterwards, but we always bring a dustpan and brush.
MORE SHOWS COMING SOON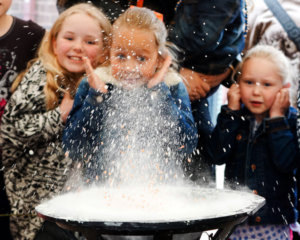 Music=Maths
'Music is nothing but unconcious arithmetic' -Gottfried Leibniz. Find out what he meant as we delve into the brain's unstoppable and unconcious search for patterns, and how its tendancy to do this makes us enjoy music. Featuring live cello and out of sync clocks, this show takes us from Bach to Techno, and we find there's not as much difference as you might think.