Acoustic Meteorology
It's not easy dedicating your career to areas of science that are not highly regarded within the scientific community. Acoustic Meteorologists are not often invitied to international conferences or symposia, and do not often get articles published in respectable scientific journals. But that is because this is the cutting edge of cross-disciplinary science. One day the world will come to realise the importance of Acoustic Meteorology, and it's pioneers will be regarded with respect and awe. There will be statues. Until then, we do what we can.
Gurgle Splosher Gallery.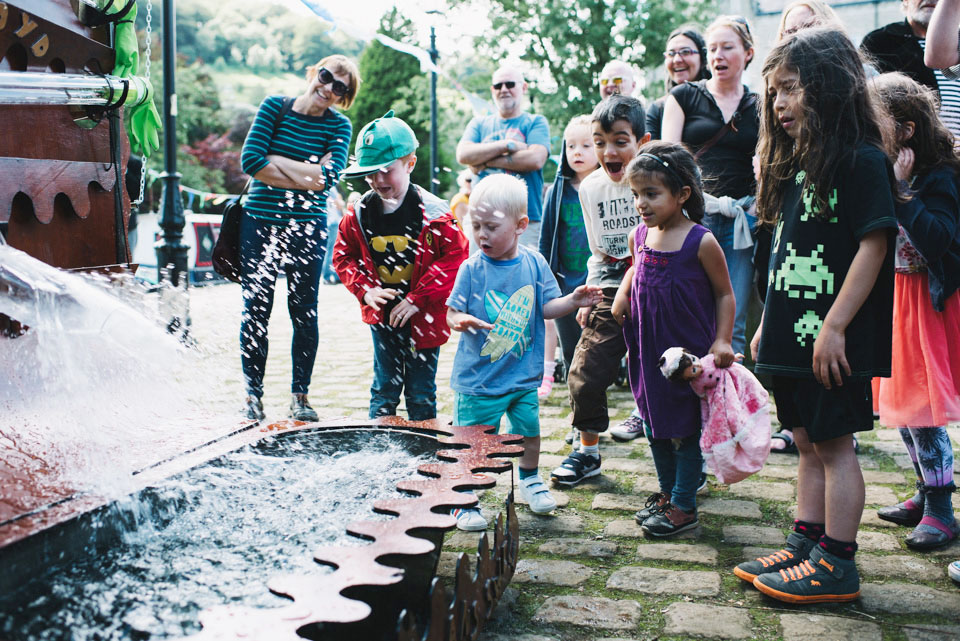 The Gurgle Splosher is a playful and interactive sound-sculpture model of the water cycle. Built on commission for Landlines and Watermarks, in partnership with 509 Arts. It was designed by Steve Summers after a series of workshops in local schools, where pupils devised their own ideas for water-based instruments.
Watch a prototype version of the Gurgle Splosher being tested at the Bradford Science festival July 2017 HERE.
Several more systems, the frame and decorations were since added over the summer before the showcase event at the People's Fair in Halifax.
The completed Gurgle Splosher rounded up it's world tour (Bradford, Halifax) with a triumphant return to it's home town of Mytholmroyd this October, imbuing god-like powers of weather control to all who dared to step up.
'The Gurgle Splosher is certain entertain and inform wherever it is seen. A fantastic and unusual interactive addition to any event.'

Alan Dix, Artistic Director, 509 Arts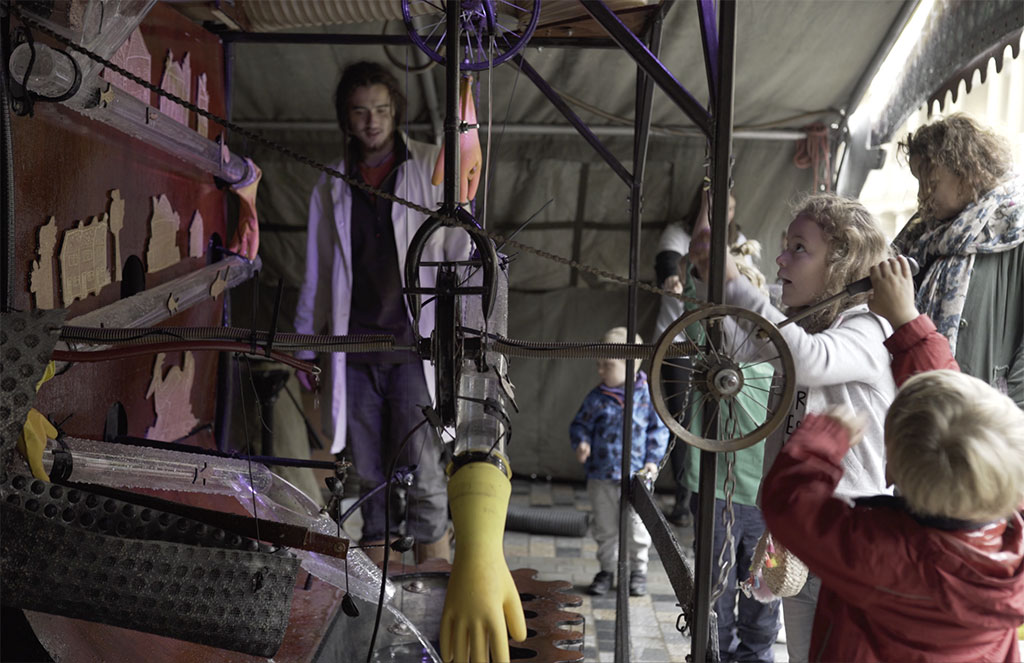 At the top is the upper 'cloud' reservoir which is a large, clear tank filled with water. At the bottom is the 'sea' reservoir. Water is pumped from the lower to the upper reservoirs when needed, and can then take several routes back down through the system, as determined visitors pulling on levers and chains. Many different water sounds are amplified through a powerful PA system; rain, flowing streams, drips, sudden deluges, bubbles, splashes and of course Gurgles and Sploshes.
'The Gurgle Splosher was commissioned by 509 Arts as part of Landlines and Watermarks– a major cultural response to the Calderdale floods of 2015. Noisy Toys produced a playful, engaging and interactive experience that worked for people of all ages and was seen at local festivals in West Yorkshire. It featured as part of the People's Fair in the newly restored £19m Piece Hall in Halifax to great effect. The imaginative design and amplified underwater sounds were an immediate hit and complemented our other water themed commissioned arts projects. The crew managed to balance in-character costumed performances with genuine educational content relating to the water cycle. The Gurgle Splosher is certain to entertain and inform wherever it is seen. A fantastic and unusual interactive addition to any event.'

Alan Dix, Artistic Director, 509 Arts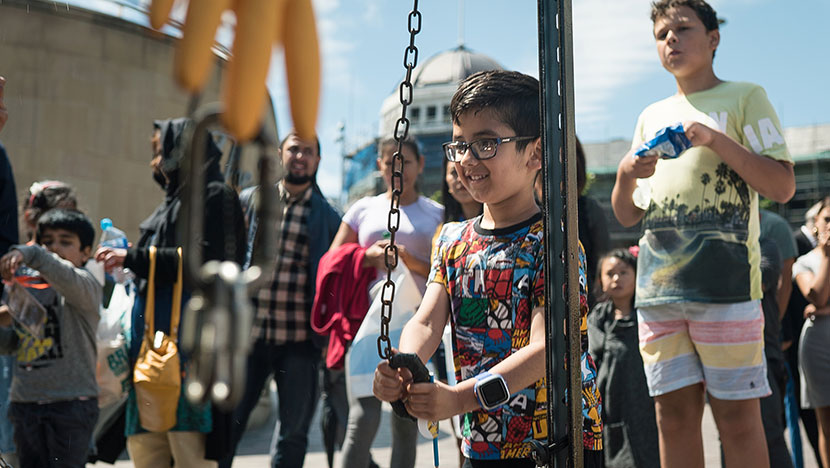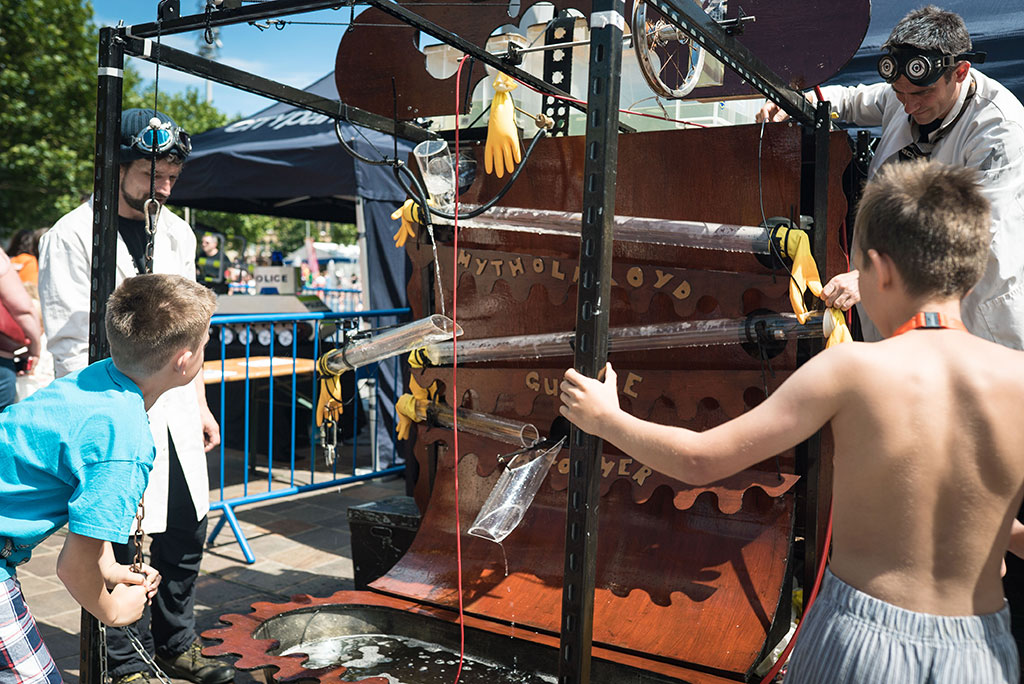 'We were absolutely delighted to premiere the Gurgle Splosher at this summer's Hebden Bridge Arts Festival, especially as our theme was water. In maverick Heath Robinson fashion, the inspired Stephen Summers of Noisy Toys, created a working model of the water cycle that had kids squealing in damp delight as they stopped, started, rerouted and challenged the water. Clever, fun and sploshtastically interactive, Gurgle Splosher was one of my festival favourites.'

Helen Meller, Festival Director, hebdenbridgeartsfestival.co.uk