A Terrifying, Interactive, Upcycled Noise Contraption
BOOM-TWANG-SPROING-BLEEP-SQUEAK-PARP-BANG-PLINK-PLUCK-BOING-BOOOOOOOOOOOOOM!
The heart of a piano, a rubber band, a door spring, an ultra-sonic Theremin, an analogue synth, a Nose Tester, some hacked Bass Drives, a slinky and four violins; played by you with motorised mechanical agitators upcycled from dead computers. This is raw analogue circuitry, electro-motors, mechanical systems and found acoustic objects built into a mechanelectracoustic contraption. Large consoles house the controllers allowing groups of people to explore the sonic potential of each instrument and jam with their friends. What comes out is beautiful improvised electroacoustic music- or a horrendous cacophony, depending on your personal taste. Fascination guaranteed.
Caution: Deviant audio in use
No liability for long term effects accepted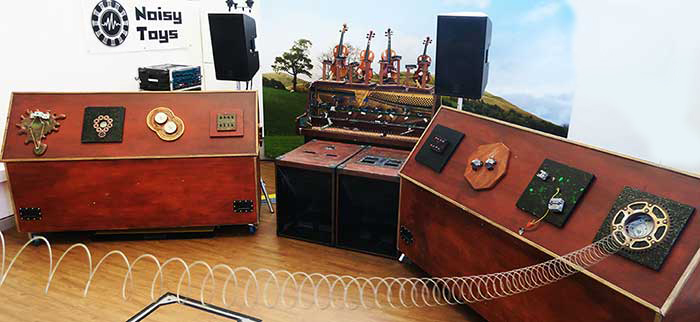 The Acousatron is ideal for large events where lots of people want to have a go at something. The consoles that allow people to interact with the instruments house eight specialist controllers, each of which has different ways of controlling the sounds. The amplified sounds are large, complex and constantly changing. Depending on the nature of the event the Acousatron experience can be taken up several levels with costumed performers who interact, encourage and jam with visitors/participants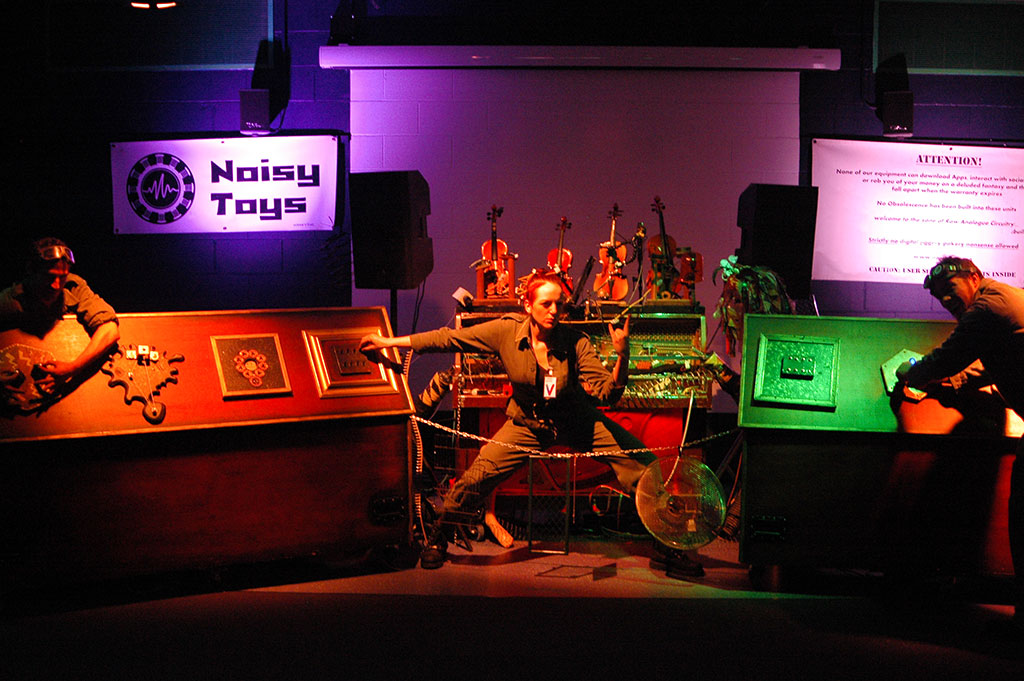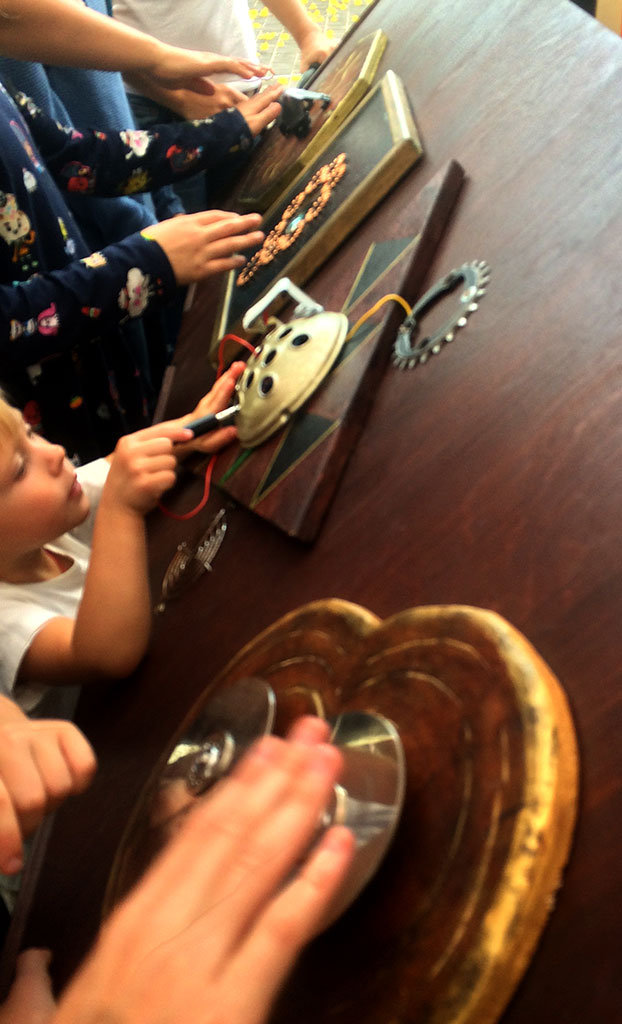 UK & Eurpoean bookings
The Acousatron V3 (as featured in the promo video) is supplied with 4kWatt sound system, lighting and everything required. Three performers/facilitators are needed to fully support the installation, additional staff or volunteers may be required for some events. We can potentially take the whole installation and the crew in our van to any event realistically accessible by road. Day 1: £1000, additional days: £800 + travel (30p/mile) + accommodation. Long distance and overseas trips may incur extra costs.
International bookings
The consoles for the Acousatron V5 (as featured at the Moscow Maker Faire 2018 & 19) were built at FabLab Moscow using lazer cutters and CNC routers. All of the active instruments we can take in our luggage. This means that the Acousatron installation is available for use at any event anywhere in the world if you have access to Fab Lab -type tools and can provide the PA system (with extra bass).