Scavengers
The first Scavengers of Calderdale at the Hebden hackspace on 1 August was full of young dismantlers! Regular sessions starting in September- info here very soon.
Manc Scavenger workshops have also taken place at Noma (5 Aug) and the Old Abbey Taphouse (5 July), more Manchester events coming up.
The Festival of Thrift will now feature drop-in Scavenger workshops on the Saturday & Sunday festivalofthrift.co.uk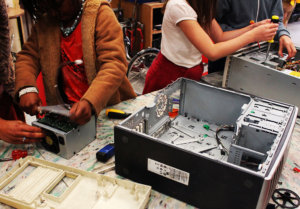 Scavengers is all about up-cycling: making new things out of junk. Like Wombles*.
To get the good bits out of the junk we have invented the Art of Un-making, which is just like Making things, but the other way around.
These sessions are led by Steve Summers (Noisy Toys) and Mick Chesterman (EdLab) and will focus on Un-making electronic things and Making things that make Noise. Like Techno Wombles**.
Screwdrivers in hand we will be learning about what's inside computers and other electronic items by destroying them, and using their innards to create new instruments. We will also be experimenting with circuits, improving our use of tools, making instruments and then playing around with them to finish off with a lovely Noise Jam.
As well as technical and creative content, there is a strong message of sustainability here as we address issues around electronic waste: the true cost of the products, consequences of obtaining and disposing of the materials, built-in obsolescence and the disposability of consumer electronics. Despite these weighty themes, we will have a lot of fun as everyone loves taking stuff apart, building circuits and making some noise!
Please bring some e-junk! Computer towers are ideal, anything electrical will do but laptops or things with glass screens we don't want.
* Please refer to Wikipedia if you are younger than 35
** Please refer to your imagination