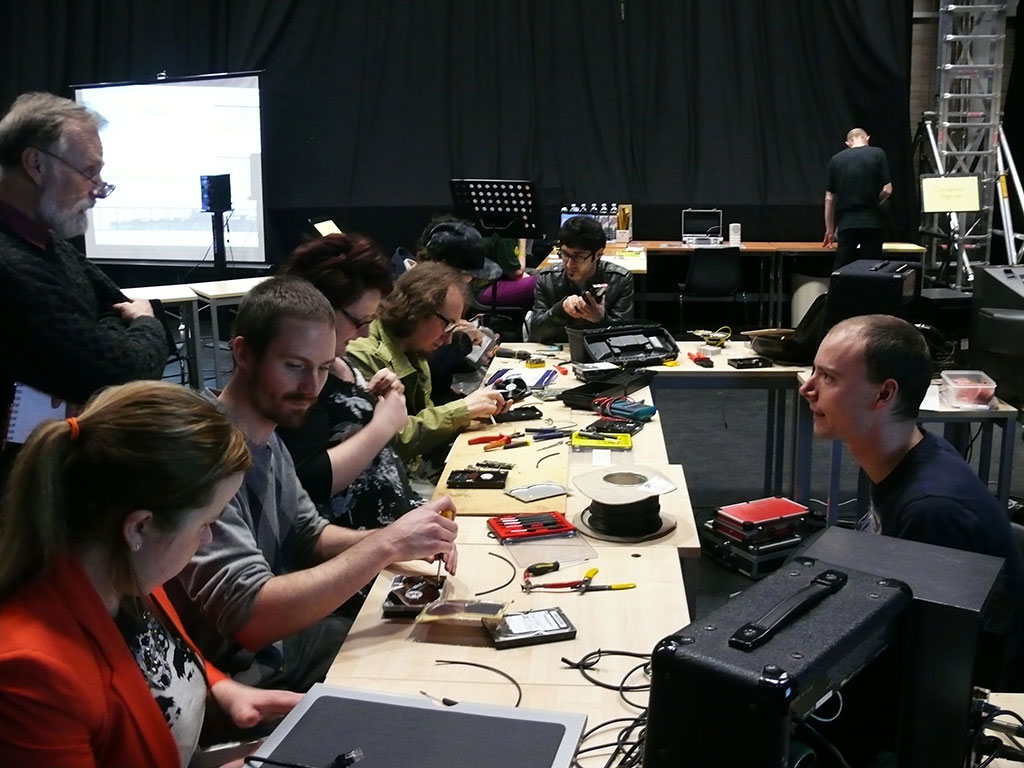 Noisy Toys activites are 'hands-on' great for adults who want to have some fun and take part in creative (and destructive) group activites with a difference.
How would you and your colleagues like to dismantle a computer together and turn it's innards into weird and wonderful Noise Contraptions? Or take part in a facilitated noise jam using amplified everyday objects as instruments? Surely everyone would like a chance to Nose Test the boss? Here are some of our activites that we recommend are particulalry suited to an active conference session or a fun day:
– Nose Test
A perfect ice-breaker: we all take it in turns to complete the circuit by touching our neighbour's nose, producing a funny sound and guaranteed smiles. We usually start all our activities with a Nose Test.
– Scavengers Making & Tinkering
Making mini noise contraptions from bits of broken computers. Let's build the Robotic Chicken, the Entropic Agitator, the Polarity Tester and more. Then we can use our new instruments to rock out to a techno-noise jam!
– Unmaking
Fancy a different relationship with a computer? Why not destroy one then? In a controlled way, of course, but gentle destruction is fun so get your screwdrivers ready! We will find all kinds of useful and interesting treasure in there…