Week starting 1 Feb
Candle effect: finish the code that we covered on Monday, connect it up and then play around with the clours and random values. Start with a 'realistic' candle effect and then go strange. Random is a very powerful tool- it can make many projects more interesting. Everything you need is covered in the 'Pumpkin project' below (you don't need to do the pumpkin, but you can if you want to). Next week we will show off our random candles to each other on zoom.
Buggies: make sure you have built a buggy by next week if you haven't already- I need to see everyone's buggies next Monday, and that they can move and react to their environment using the sensor.
Can you connect and code your candle and buggy at the same time? Can you think of other ways to use Random that might make a better buggy?
Mega Crumble Buggies
Have a look at this amazing site for inspiration. We will not be building anything as advanced as these (yet!) but you might get some good ideas:
---
Our main project will be to learn the skills we need to build Buggies that respond to their surroundings using sensors, are powered by motors and controlled by 'Crumbles'. All the hardware you need for this is contained in the Crumble Kits, but you will need to recharge the AA batteries and to download the Crumble software (link bellow). After lockdown we will hold the epic 'Buggy Battles' with (at least) 5 different challenges. The details of this will be on a separate page as it will be open to contestants from outside the Hub.
What you need to do:
Download the Crumble software
Connect up your Crumble kit and learn the basics
Be aware of online safety (read the info below)
try Sonic Pi (optional)
Play with Daisy the Dinosaur (optional)
Experiment with Scratch (optional)
Welcome to the Coding & Making unit.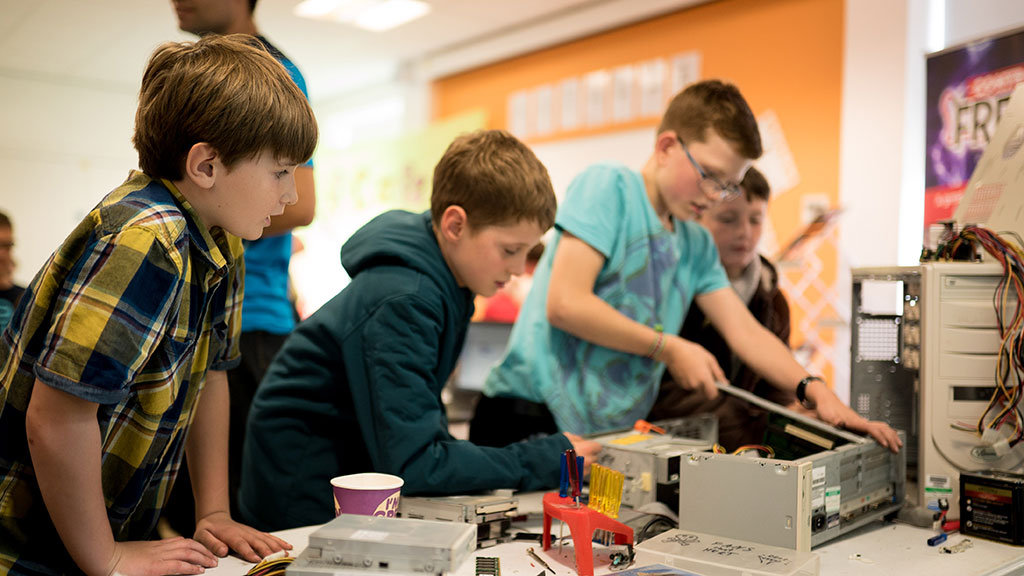 MAKING is about HARDWARE: wires, buttons, switches, motors, crumbles, LED lights, anything physical.
CODING is about SOFTWARE: the code/program that tells the computer what to do. A set of digital instructions.
---
Crumble Buggy Battles
Crumbles are small, poratble programmable devices made by Redfern Electronics. Our main project this term will be to continue to learn the skills we need to make and program our own Crumble Buggies, ready for battle….
Download the free software and the 'Getting started guide' pdf here:
Using the sensor
This is the code, have a look at it and then write it in. Each element is explained in the following video.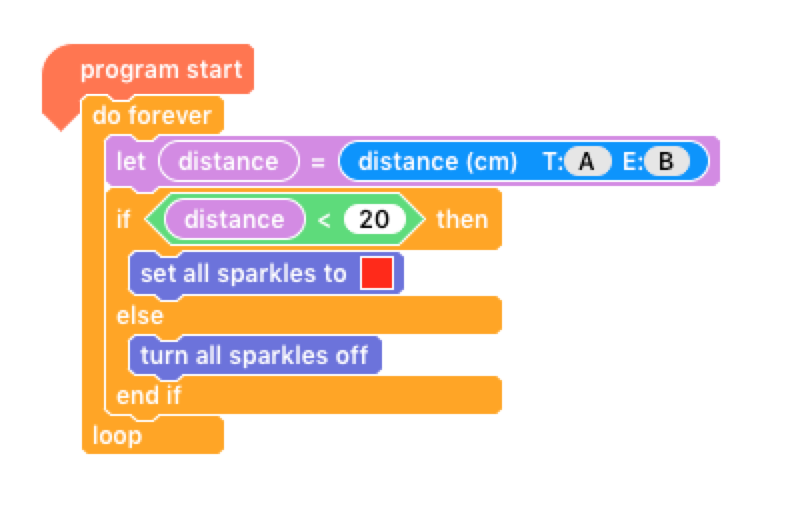 ---
---
Scratch
Scratch is free and very flexible, have a look at the website and start coding with Scratch- this will set you up really well for using Crumbles and for other 'visual' coding.
---
General advice on Coding & Making
Nuggets of wisdom (Coding):
Expect it not to work the first time. Problem-solve: is it a hardware or software problem?
It takes far longer to debug (find and fix errors in your code) that to write the code. So….
… always start with the simplest version possible and then make it more interesting IF IT WORKS.
Computers are stupid and need to be told everything. They don't make assumptions like we do when we communicate.
Nuggets of wisdom (Making):
Usually when you start to make something, you will not finish it. At some point you will realise that there was a better way to do something and you will start again. Embrace your mistakes, the next version will be better, and much quicker to make.
Spend more time planning, designing, visualising and thinking than you spend actually making.
Start to examine simple things around you and see how people have overcome the same design problems that you will face.
use the resources that you have available to you. The recycling box is your friend.
---
Online Safety
During lockdown most of us will be using computers more than usual. The following is my personal recommendations for online safety. You can choose to trust social media companies, or someone you end up chatting to online who seems to be nice. You can also choose to walk blindfolded across a motorway, or wrestle a crocodile.
everything that I post/email/write/upload will be kept, stored, sold to a private company in the USA and used to build up a hidden profile of me that I will never be allowed to see, change or remove, for the rest of my life. This information about me will be used to make decisions that will affect my life.
the camera and microphone in my computer and phone will be used without my knowledge by people that I do not know to record the things I say and do.
everyone online is a sweaty psychopathic lying weirdo, unless it's someone I know personally.
I share as little of what matters about me online as I possibly can.
If this sounds paranoid then make sure you read all of that small print that you agree to whenever you sign up for a social media account, then study law for a few years so you can understand it, then you can be sure that you are safe.
We live in a data economy. Information about you, your likes, your friends, what you do- this is a very valuable commodity now. Have you every wondered why do companies like facebook and google put so much work into making amazing software for free? They spy on you constantly and sell that information, it's a huge business and that is all that they have to sell. They also do very little to stop weirdos from pretending to be kids and then trolling and grooming young people online: this goes on A LOT. More than you realise. Sad but true. NEVER send or post images and think carefully if you really want to share information about yourself. Putting anything (including 'chatting') on the internet is exactly the same as printing it and taping it up around town on lamp posts.
---