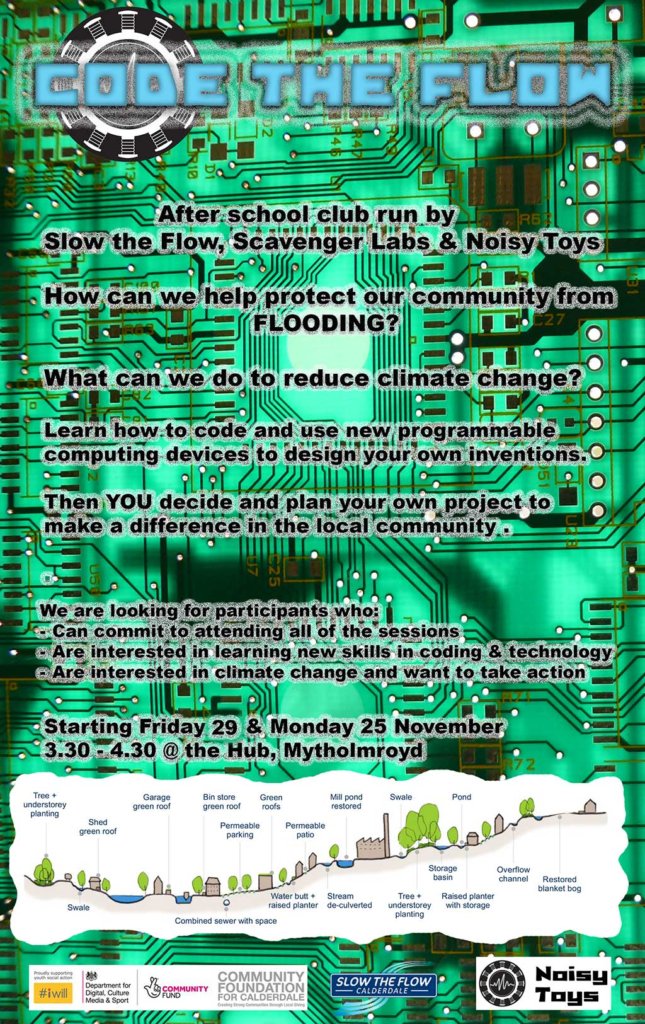 This project is funded by the Community foundation for Calderdale in association with Slow the Flow, Noisy Toys and Scavenger Labs. Places are free but very limited so please respond ASAP to get a better chance of securing a place.
Slow the Flow addresses issues around flooding, flood mitigation strategies, climate change and how technology can be used to help. Part of this project will be for young people to plan an awareness-raising campaign in the local community, encouraging people to volunteer at tree-planting events and to take simple practical measures in their homes and gardens that help to slow the flow of water.
During the Code the Flow club we will build simple water-level sensors based on those used as early-warning river sensors. We will be learning some coding and some Making skills which can then be used to design and build many different interactive technology projects at very low cost. We hope that this may lead on to an ongoing coding & Making club in the New Year.
There will be the opportunity for young participants to devise their own strategies to raise awareness of action to help alleviate flooding damage locally and to combat climate change globally.
Code the Flow
– Coding low-cost portable computing devices (Crumble, Arduino)
– Building early warning river sensors using programmable technology
– Planning awareness raising strategies in the local community
– Learning more about climate change and flooding
– Showcasing event at the end of the project
Price: Free! We have very limited places and this will be first-come-first-served
(there will be more opportunities to take part in the new year if you miss out this time).
Dates:
Every Monday starting Friday 29 November, finishing 16 December.
Time: 3.30 – 4.30
Venue:
The Hub, Grange Dene, HX7 5LF, Mytholmroyd -above the dentist, the entrance is on the carpark side. There will be a 'Code the Flow' sign on the door.
The club will be run by Steve Summers from Noisy Toys who is a qualified teacher with full DBS clearance which can be shown to any parents on request.
Who is it for?
Recommended ages 8-14
We are looking for participants who:
– Can commit to attending all of the sessions
– Are interested in learning new skills in coding and hands-on technology
– Are interested in issues around climate change and want to take action to help
Each week we will learn something new related to coding and programable technology, then we get to play around with it. This includes making physical connections and building things as well as coding. Each week there will also be a section of discussion around local issues of flooding and global climate-change and what we can do to make a difference in our community. We will find out about what groups like Slow the Flow and Treesponsibility are doing and how we can get involved with that work. We will make a plan of what we will do in the club together, and each participant can choose their own project, but to start off we will all make a river level sensor.
Firstly we will use Crumbles (see below) and Scratch-type coding to learn the basics.
– Experiment with basic visual coding to make Sparkles (multicolour LED lights) change colour in sequence, and then to turn wheels and motors which can be used to easily make buggies.
– Buiding a visual display using a strip of Sparkles that can be used as a warning indicator of water levels in rivers.
– Making a proximity sensor that can detect water levels
Crumbles are small, cheap programable computers, perfect as a starter into coding and Tinkering. There are several kinds of similar devices now such as Microbit, Arduino, Raspberry Pi etc. Each has their advantages and disadvantages, but I think Crumbles are the best to start with. You can find more information about them here:
After this the participants can choose to continue with Crumbles or start using Arduinos, which are more powerful and use command-line code. We can improve our river sensors or start a completely different project. The aim is to use technology in any way that will help local and global issues of flooding and climate change- this includes awareness-raising in the community. There are many ways we can do this and we can give suggestions and guidance, but there is complete flexibility for the participants to choose their own project, or they can follow one of ours.
We have a full set of Crumbles and Arduinos, as well as all the sensors and other bits we need. We have 6 reconditioned laptops (mostly running on Linux) but feel free to bring your own.
It is hoped that this will become a regular club, but there will be a small charge when the current funding runs out.
If your child has no coding experience that is really not a problem- it's very easy to learn. If you have a tablet or pad, download Daisy the Dinosaur app and have a play with that- it is very similar to Scratch and the kind of coding we will use at the start.
slowtheflow.net
noisytoys.org
scavengerlabs.org.uk