[This page is not accessible via the main menu]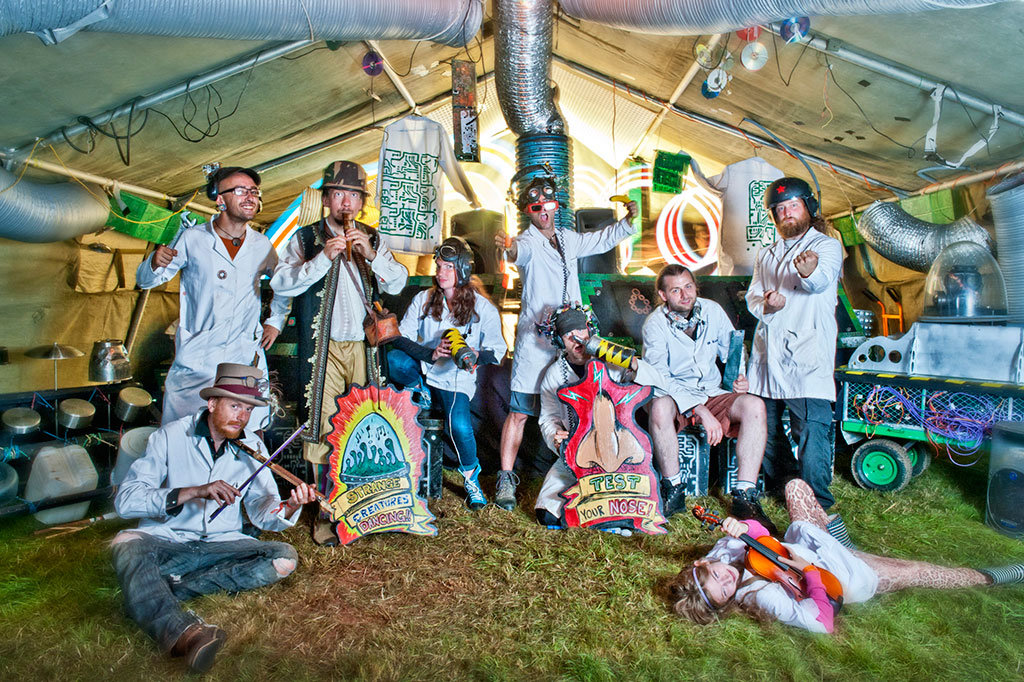 Costume-making: 30 June 6-8pm Todmorden Makery. Tansy will be working on boiler suits & labcoats and anyone who is either up for helping with that or would like some help using the sewing machines & overlocker to improve their own costume, please email me to let us know you are coming. There will be another costume-making session just before the event, possibly 20 Aug. https://todmordenmakery.org.uk/
IMPORTANT: NO ARRIVAL AT THE EVENT BEFORE THURSDAT 25 AUG if you have children with you (becasue the event can't have kids on site before then). Please get there in good time on Thursday. This changes the plan a bit- training will be on the job so everyone will be on shift on Friday 10-12.
Camper Calling – we are now listed: https://www.campercalling.com
Dates 25-28 August (bank holiday weekend)
2 shifts of 4 hours + 1 hour training- that's all! (or prep work)
Work is fun & creative, mostly engaging with people to make noise on the Acousatron
Volunteers get ticket worth £120 + kids tickets + some food
Some paid positions and £ for drivers ££ for van drivers – see below
Crew camping, covered kitchen & daily communal meal
Get more involved with site decor, jam sessions, performances etc
Reply to steve@noisytoys.org, Call 07766517711 for a chat about any of this. I would prefer a call to questions over email.
Costume
Everyone who is facilitating will be in costume, the more extreme the better. We have some lab coats, boiler suits & accessories but not enough for one each so we will be sharing unless you can knock something up yourself, which is fun to do . You could use either lab coats or boiler suits as a base and just add accessories in any style that you like, or you could have something completely different and adapt it (with lots of wires) to fit the rest. Steampunk or cyber glam always works well but anything goes.
Here's a few tips for improving on the base (boiler or lab):
draw a circuit diagram on the back
weave colourful electric cables through the button holes etc
get a clunky pair of old headphones and stick things onto them
goggles, wigs, pens in pockets, more wires, random objects
There are some old pics here (but we can do better): https://noisytoys.org/what-we-do/festivals/
We use this kind of boiler suit (search 'Dutch military boiler suit') if you wanna buy one that fits: https://www.ebay.co.uk/itm/133257231864?hash=item1f06bffdf8:g:YW8AAOSw-SVeFHoA
Stuff needed
LED lights for inside the dome to point at installation & stage
colorful wires for costume
clunky broken headphones for costume
goggles
boiler suits & labcoats for adults & kids
gazebos, awnings etc for our kitchen area
huge pots for kitchen
musical instruments acoustic or electric
The Job: Noisy Toys
Have a look at the festivals page to see some of the stuff we have done in the past. Most of the roles are facilitating- interacting with people, encouraging people to play on the Acousatron etc. Active facilitation is essential and really makes the difference in the quality of the experience, so you need to be confident with engagement (or take one of the v few other roles). BUT you won't be teaching anything- we often just play on the installation if any visitors are hesitant, or we just walk up and activate an instrument so they can see what to do. Unless you have a workshop, performer or leader role you basically just have to be enthusiastic, in costume.
We will have a crew of 30 adults + quite a few kids so this will be the largest gig we have ever done. After a break from festivals of several years I am planning on doing more of them from now on. Not been to this event but it sounds nice- possibly evolved from a camper van event? Family oriented, doesn't seem too corporate and they are very open to ideas.
We will be running a mini area which will be comprised of:
Acousatron. The main feature, this is a fully interactive steampunk/cyber-glam sound installation in a geo dome. It's loud, chaotic, intense and loads of fun. The Acousatron is developed and improved each year so old timers will find some new features. This is where most of the work will be, just showing people how to use the consoles (easy) and encouraging them to have a go. Check out the page and demo vid:
https://noisytoys.org/installations/acousatron/
Workshop tent. Minimum 4 hours of workshops daily, based on Music/noise jamming, Making, Unmaking, upcycled e-waste, hardware hacking etc. Open to other suggestions as well as long as it's in theme. Arty Making sessions using e-waste? Workshops will be led by a professional but there will also be 1 or 2 volunteer roles to support them which is also good for getting experience & references.
https://noisytoys.org/what-we-do/workshops-2/
Audio Assault Buggy. A participatory walkabout act, we can venture into the wider festival conducting Nose Tests and other antics.
https://noisytoys.org/what-we-do/drop-in/
Lab Rat Cabaret. Chum-Chon hifi sound system, Hat Stand band, Vieka, some other pro-performers and amateurs too, with opportunities for random short acts for adults & kids earlier on (go on, have a go), live performance of the Shrodinger's cat experiment over 3 nights, Raveoke and more of a DJ dance do later.
We will decorate our site and will be in costume while on shift, either in boiler suits or labcoats (I have some of both) or your own costume as long as it fits the steampunk/cyber glam theme. Wigs, accessories etc very much encouraged.
Your role
2 X 4 hour shifts over the whole event (one AM one PM). That's it! (different for non-engagement roles)
Shifts are fun but intense which is why we keep them short.
If you have young children you will need someone to care for them while you are on shift. We will try to help each other out as a group as much as possible here, especially if anyone is bringing children on their own.
Everyone will need to be on site in time to get set up and have time for a 1 hour induction and meeting on the afternoon of 25 ready to start on 26. A small set-up crew will be there from the 22.
We will be working with children and families and it is absolutely essential that you are sober and have had enough sleep for this, otherwise you will not be able to do your shift, which invariably means adding to someone else's workload.
Child Labour
The plan is that everyone over the age of 6 will be assigned a shift (possibly different to their parent's if you think this is best) and encouraged to work, but I will not expect parents to enforce this. There will be no reprimand or shame if they lunch it out. I know kids get tired and stropy towards the end, but I also know that they can respond very well to being treated as part of a team, so that is the aim here. I am happy to discuss any child's particular needs in advance and this aspect is very flexible.
Our camp/group
With such a large team we will box off a camping area for ourselves with a communal kitchen with gas cooker for anyone to use. Any help or other kit to improve this is very welcome. Camping like this is not a requirement and you can obviously do your own thing, but it's very nice to have a central area where we can share childcare and cooking and just hang out- We will also be putting £100 into communal food (baked potatoes) & drinks.
How we run this area is up to all of us but I will just point out the following:
the area will need to be pretty quiet from quite early, it's not a party zone.
there's a lot of kids in our crew but not all crew have kids with them
communal food will be veggie / vegan
there will be a daily filled baked potato for each person, but we cannot say at what time you will get it