[This page is not accessible via the main menu]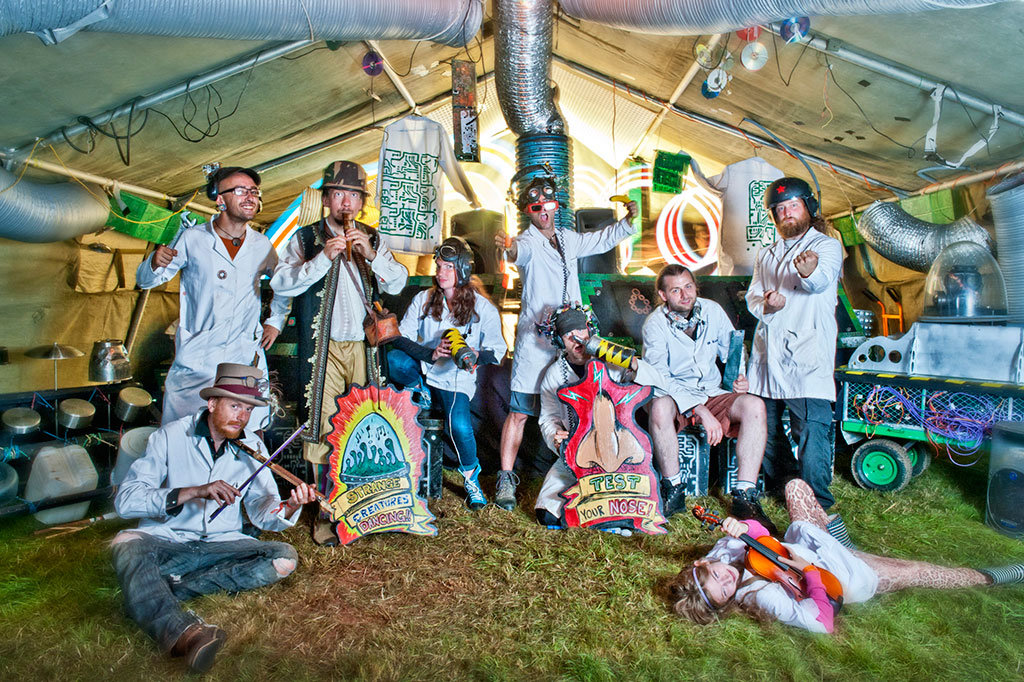 Join our crew next summer! Here's the basic details, see further down for more info:
Camper Calling – we are now listed: https://www.campercalling.com
Dates 25-28 August (bank holiday weekend)
2 shifts of 4 hours + 1 hour training- that's all! (or prep work)
Work is fun & creative, mostly engaging with people to make noise on the Acousatron
Volunteers get ticket worth £120 + kids tickets + some food
Some paid positions and £ for drivers ££ for van drivers – see below
Crew camping, covered kitchen & daily communal meal
Get more involved with site decor, jam sessions, performances etc
16 places (out of 30) taken already so get in touch ASAP if you are interested – no commitment yet. Please pass this call-out on to anyone who you know personally and think is suitable but don't post it on any social media or forums etc.
Reply to steve@noisytoys.org, Call 07766517711 for a chat about any of this. I would prefer a call to questions over email.
Update: live performances after hours in the dome
This is not confirmed, we are discussing it at the moment, but we hope to use the space in the evenings as a small, quirky venue with interesting performances and strange things happening. One of those random little places you might stumble across at a festival. If anyone has a performance suggestion, please get in touch.
The Job: Noisy Toys
Have a look at the festivals page to see some of the stuff we have done in the past. Most of the roles are facilitating- interacting with people, encouraging people to play on the Acousatron etc. Active facilitation is essential and really makes the difference in the quality of the experience, so you need to be confident with engagement (or take one of the v few other roles). BUT you won't be teaching anything- we often just play on the installation if any visitors are hesitant, or we just walk up and activate an instrument so they can see what to do. Unless you have a workshop, performer or leader role you basically just have to be enthusiastic, in costume.
We will have a crew of 30 adults + quite a few kids so this will be the largest gig we have ever done. After a break from festivals of several years I am planning on doing more of them from now on. Not been to this event but it sounds nice- possibly evolved from a camper van event? Family oriented, doesn't seem to corporate and they are very open to ideas.
We will be running a mini area which will be comprised of:
Acousatron. The main feature, this is a fully interactive steampunk/cyber-glam sound installation in a geo dome. It's loud, chaotic, intense and loads of fun. The Acousatron is developed and improved each year so old timers will find some new features. This is where most of the work will be, just showing people how to use the consoles (easy) and encouraging them to have a go. Check out the page and demo vid:
https://noisytoys.org/installations/acousatron/
Workshop tent. Minimum 4 hours of workshops daily, based on Music/noise jamming, Making, Unmaking, upcycled e-waste, hardware hacking etc. Open to other suggestions as well as long as it's in theme. Arty Making sessions using e-waste? Workshops will be led by a professional but there will also be 1 or 2 volunteer roles to support them which is also good for getting experience & references.
https://noisytoys.org/what-we-do/workshops-2/
Audio Assault Buggy. A participatory walkabout act, we can venture into the wider festival conducting Nose Tests and other antics.
https://noisytoys.org/what-we-do/drop-in/
Performances. Each day when we finish at 5 we can have our own live music performances & DJs either in the dome or turn the PA out if weather is good. Up to us what we do here- bring music & instruments. Some plans afoot to expand this after hours into a mini music/live acts venue open to outsiders in the evenings.
We will decorate our site and (mostly) be in costume while on shift, either in boiler suits or labcoats (I have some of both) or your own costume as long as it fits the steampunk/cyber glam theme. Wigs, accessories etc very much encouraged.
Your role
2 X 4 hour shifts over the whole event (one AM one PM). That's it!
Shifts are fun but intense which is why we keep them short.
If you have young children you will need someone to care for them while you are on shift. We will try to help each other out as a group as much as possible here, especially if anyone is bringing children on their own.
Everyone will need to be on site in time to get set up and have time for a 1 hour induction and meeting on the afternoon of 25 ready to start on 26. Some of us will be there from the 22 to set up, it would be great if anyone else wants to come a bit early to help decorate etc, it's quite nice being there early.
We will be working with children and families and it is absolutely essential that you are sober and have had enough sleep for this, otherwise you will not be able to do your shift, which invariably means adding to someone else's workload.
Main roles: Mostly- facilitation, workshop support, walkabout performance. A few – admin/crew/shift management, caterer, media (photo/vid).
Child Labour
The plan is that everyone over the age of 6 will be assigned a shift (possibly different to their parent's if you think this is best) and encouraged to work, but I will not expect parents to enforce this. I will try to speak to all children before the event and ask them to commit to the deal- giving them responsibility can be very rewarding and some of our young crew have gotten a lot out of this in the past, but I would like to try organising this in advance and asking for their co-operation. There will be no reprimand or shame if they lunch it out, and they can always choose to help in the kitchen if they prefer. I know kids get tired and stropy towards the end, but I also know that they can respond very well to being treated as part of a team, so that is the aim here. I am happy to discuss any child's particular needs in advance and this aspect is very flexible.
Our camp/group
In the past we have made a large circle in crew camping and had a fire pit and covered kitchen area permanently set up, on which at least one communal meal is cooked each day, and which everyone can use at other times. Camping like this is not a requirement and you can obviously do your own thing, but it's very nice to have a central area where we can share childcare and cooking and just hang out- this is quite often a more popular option than the festival. It also means we don't have to spend a lot of £ on overpriced food (I make it a personal aim not to spend anything at all at the event). We will also be putting £100 into communal food & drinks.
How we run this area is up to all of us but I will just point out the following:
the area will need to be pretty quiet from quite early, it's not a party zone.
communal food will be veggie and (probably) vegan
we will have a caterer but they will be organising and buying the food, not cooking it- that's up to all of us
Who's in?
If I have sent this to you and you have done it before then you definitely have a place. Email your details as listed below and I will confirm your place. If you have done this before but didn't receive it from me I probably just lost your details, just reply and send your details below.
Please pass this on to anyone who you think is suitable (or who has done it before but didn't receive it). Anyone who I don't know give me a call if you are interested.
Here are the job specs:
Able to work and camp in a group of people -some of whom you don't know- without being grumpy, even if you're a bit tired- ESSENTIAL
Confident at engagement with public inc YP and families – ESSENTIAL (unless you have one of the limited non-engagement roles)
DBS (Disclosure & Barring Service) the more of us who have an up-to-date DBS the better – USEFUL
Experience, qualifications or interest in or interest in learning more about science esp Physics – USEFUL
Musical experience/skills – USEFUL
Can bring stuff in a van or other passengers – USEFUL (also some £ available for van drivers)
Artistic flair, decor, costume, makeup, photography, filming – USEFUL
Skills with electrics (esp audio and 12v), carpentry, general Making – USEFUL (please state this there may be opportunities for some £ to help with the prep)
£££££££££££££££
There is a small budget for this and some paid roles so I just want to be up front about that. Most of the £ will go on all of the advance prep work, some to van drivers, some for film/photo, a bit for costs like food etc. Workshop leaders and shift leaders will be paid during the event, everyone else is a volunteer. I hope to contribute to car drivers' costs if they can bring other people as well.
—————————————————————————————
Please email me the following details, but remember that sending it back is not a guarantee of a place.
Full name:
email:
phone:
Full names & ages of any children you plan to bring:
Transport (got/need/available space):
Noisy Toys experience:
Any useful skills/exp/DBS as listed above (keep it v short please):
Anything else we need to know?