Our new installation for 2017 is the Acousmatron, based around mechanised controls of acoustic instruments.
The full Interactive Installation can process over 1200 test subjects per day of operation.
'Interactive' is a troublesome term, over-used, and with ambiguous meaning. We use it to mean 'you can play with it'. Visitors are active participants and control what is happening, rather than passively observing.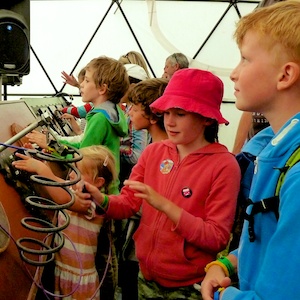 A mini-area of expressive noisy mayhem! Come and experience true Audio Anarchy on our mechanical Noise Machines. Be sure to get your nose tested on the way in, then you can let rip on the robotic instruments, sculpting some beautiful melodious music with your friends… or just hammering out some horrendous offensive cacophony- that's fine with us, you will NOT be told to be quiet.
Make sure you don't press the wrong button or you may be vaporized, but otherwise it's fairly safe most of the time. Hopefully. The Noise Technicians will assist you if it's all too confusing, and they will confuse you if you seem like you know what you're doing. If the Machine blows a valve they will fix it when the smoke has cleared, but it might need warming up with some cyber-funk beats. This may involve some moments of structured musical group activity, and might require your help, but don't worry it's more or less bound to descend into noisy chaos again before long.
If you want to find us, follow the BOOOOOM!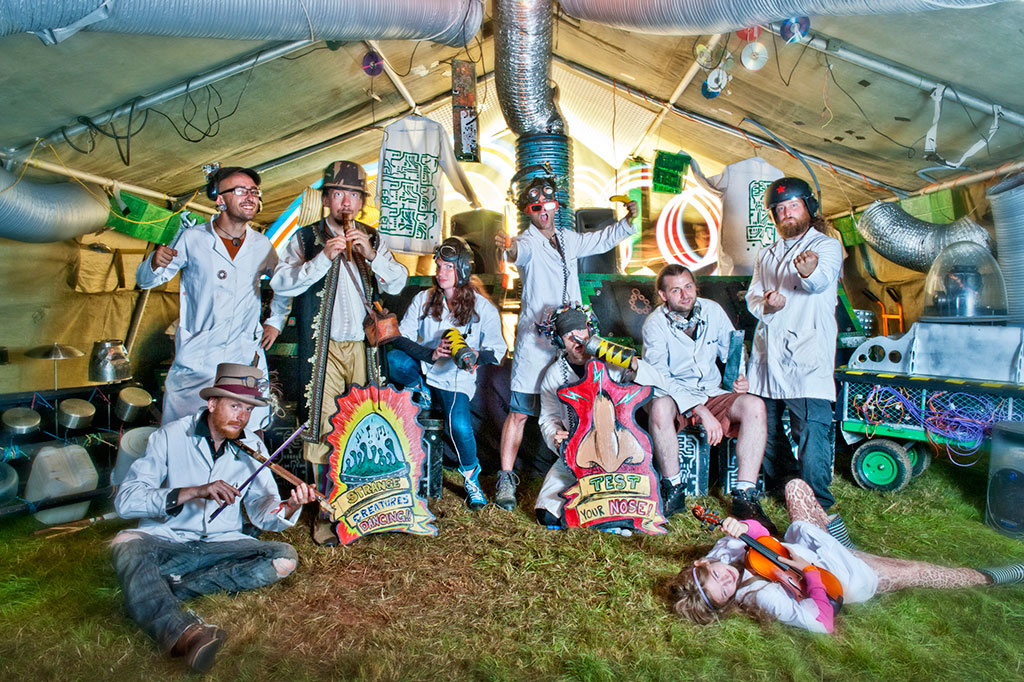 Our interactive installations bring together a range of interesting and fun activities to get both children and adults experiencing and learning about science and sound. Although there is plenty of opportunity to play on the noise consoles, we will also structure the activity with participatory performances and demonstrations. Our costumed performers are skilled at engaging people, starting and leading impromptu noise jams, testing noses, and of course bringing alien Goop to life with sound.
Suitable for events of all sizes these installations are always a hit and leave a lasting impression for everyone who has a go.