The Acousatron is the new name for our latest interactive installation, based around mechanised acoustic instruments.
The Acousatron is an ensemble of several instruments built for the Manchester Recycled Robot Orchestra, as well as a few Noisy classics and some new inventions.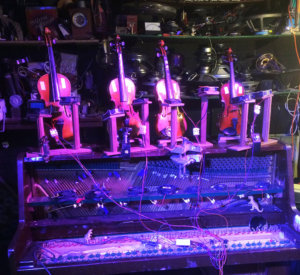 In 2017 The Acousatron has toured the Big Bang Fair (NEC, Birmingham), UK Maker Faire (Centre for Life, Newcastle) and the National Media Museum (Bradford). Look out for more dates of public events where you can play the incredible (and quite sinister sounding) Acoustatron.
Look out for our Acousatron Video coming soon…