The devastating sounds of the mighty Acousatron have been mixed into an electroacoustic composition by Steve Summers and can be heard and downloaded HERE.

The Acousatron is our latest interactive installation, based around mechanised acoustic instruments. It is ideal for large events where lots of people want to have a go at something. The consoles that allow people to interact with the instruments house eight specialist controllers, each of which has different ways of controlling the sounds: buttons, switches, spinning disks, infrared beams, plectrums (pectri?) and even a rubber band.
The Acousatron is an ensemble of several instruments built for the Manchester Recycled Robot Orchestra, as well as a few Noisy classics and some new inventions.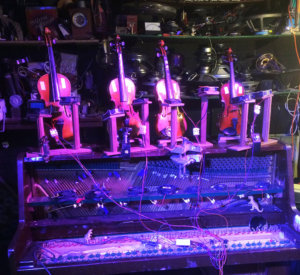 In 2017 The Acousatron has toured the Big Bang Fair (NEC, Birmingham), UK Maker Faire (Centre for Life, Newcastle) and the National Media Museum (Bradford). Look out for more dates of public events where you can play the incredible (and quite sinister sounding) Acoustatron.
Look out for our Acousatron Video coming soon…